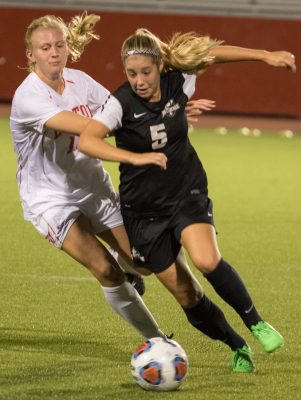 Once the second half concluded Saturday afternoon against American University, two tough streaks finally came to an end for the Boston University women's soccer team.
A penalty kick from senior defender Rachel Bloznalis was all it took for the Terriers (1-10, 1-1 Patriot League) to defeat the Eagles (1-10, 0-2 Patriot League) 1-0 at Nickerson Field. Not only did Bloznalis' goal snap BU's goalless drought at exactly 400 minutes, it also brought to an end the now-longest losing streak in the program's history at 10 games.
BU head coach Nancy Feldman saw the weekend victory more as a culmination of her team's hard work and determination, and less of a burden being lifted off their shoulders.
"I'm really happy for them" Feldman said. "They see the results of their labor, but I think it's all in due time. If you keep doing things the right way, you'll eventually get rewarded. I think we're continuing to do things the right way and be attentive to imprinting a style and having good organization in our defending, and I think we've made a lot of strides this season."
Playing in their first away game since Aug. 28 against Mount Saint Mary's College, the Eagles were struggling to defuse the constant pressure BU put on goalkeeper Morgan Lang.
In the 5th minute of play, a linkup between senior forward Erica Kosienski and sophomore midfielder Dorrie Varley-Barrett saw the latter's shot clang the bottom of the crossbar, and was immediately cleared away by American.
Another dangerous opportunity came for the Terriers in the 17th minute through the play of freshman forward Kelly Park. The San Jose, California, native's left-footed shot also ricocheted off the crossbar, but fell right to BU sophomore forward McKenna Doyle.
Doyle's effort from point-blank range was miraculously blocked by Lang's face, and the rebound fell to Park, whose shot over the bar ended a wacky, yet unsuccessful, counterattack from the Terriers.
All of that bad fortune, however, was quickly forgotten just eight minutes later.
After sophomore midfielder Julianna Chen corralled Varley-Barrett's pass in the box, she was pushed down by an Eagles defender and won her team a penalty. Bloznalis stepped up and slotted the ball past a diving Lang in the lower left corner, and the Terriers went into halftime with a lead for the first time this season.
BU dominated from both sides of the ball in that opening half, taking eight shots while its backline kept American from registering a single shot on senior goalkeeper Bridget Conway.
"Certainly today was a breakthrough in how we dominated the game and created opportunities," Starr said. "I thought we defended really tight and limited the chances they got, and I could think of one or two 'whoops' moments, but playing a 90-minute soccer game and you don't give them much beyond three sniffs [on goal], that's pretty good."
The only worrying moment for BU's defense came in the 64th minute.
Eagles sophomore Audrey Denkler's left-footed shot slid past a diving junior Hannah Ciolek, who replaced Conway after halftime, and went out of bounds, giving American its first corner, which amounted to nothing. It was the Eagles' first and last shot of the game.
When all was said and done, the victory extended the nation's longest-active home conference unbeaten streak for the Terriers to 35 games.
In Feldman's eyes, her team staying positive and holding one another accountable for its mistakes made Saturday's season-changing result possible.
"I was positive because I thought the process showed promise," Feldman said. "They were improving and they had good attitudes and were staying connected and cohesive. They didn't place blame anywhere, and took accountability when they need to improve. It was relatively easy keeping the team motivated because of how they continued to be resilient and persistent. It was easy staying positive because they were showing improvement."