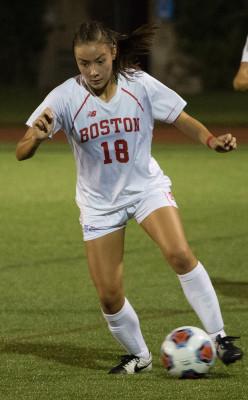 A lack of action for senior Bridget Conway and junior Hannah Ciolek, goalkeepers for the Boston University women's soccer team, signals all one needs to know about the change that took place in the Terriers' offensive attack Saturday afternoon against American University.
BU (1-10, 1-1 Patriot League) defeated the Eagles (1-10, 0-2 Patriot League) 1-0 to win its first game of the season and snap its 10-game losing streak.
"I'm happy for them," said BU head coach Nancy Feldman "They get to see the results of their labor."
Despite coming into the game winless, Feldman did not lose hope for the season, or in her team. Feldman went as far as to say it was easy to keep her squad motivated, acknowledging her team's persistence.
"I was positive because I thought the process was showing promise," Feldman said. "They weren't placing blame anywhere and were looking for areas where they could improve."
Conway started the first half and faced zero shots, while second-half substitute Ciolek faced just one in a well-rounded performance by the Terriers.
While the lack of action for Conway and Ciolek speaks to the defensive prowess, it also speaks to the developing offense's breakthrough against a struggling American team.
The first half saw BU in constant control of the ball, allowing no breathing room against an Eagles offense that has scored a mere seven goals through 11 games.
"It was really the defending that set the tone for the game," Feldman said. "An aggressiveness to play at a high tempo while playing in control went both ways."
While Feldman saw her team's increased intensity as a sign of improvement, she did indicate that there are still areas where she would like the team to improve.
BU's newfound aggression on offense came to light when senior defender Rachel Bloznalis converted on a penalty kick in the 25th minute. The goal was also Bloznalis' first of the season and gave the Terriers their first lead against any team thus far, a sign of their early season struggles.
Other Terriers also contributed to the offensive attack including sophomore defender Chelsea Churchill and classmate forward McKenna Doyle, who put up four shots in the contest.
BU came out with the same intensity in the second half, aided by the return of junior forward Christina Wakefield, who exited the game early in the first half with an injury. BU's tenacity led to another injury as American goalkeeper Morgan Lang was hit trying to defend a cross. Lang would recover and stay in the game, though. In the 81st minute, American defender Charly Slavick was also injured on a BU cross in the attacking zone. This physical style coincides with the added motivation that Feldman saw in her team's effort on Saturday.
After putting up an early lead, Feldman does not believe her team became complacent in the second half.
"I thought there was a period of time where we lost our way a bit," Feldman said. "But the good sign was, we grabbed it back."
As a team the Terriers recorded 19 shots, seven of which were on goal, while their defense held the Eagles to just one shot and one corner apiece.
This strong offensive attack is a stark contrast as to BU's performances up to this point in the year. The Terriers came into the game against the Eagles going over four straight games without recording a goal, totaling 400 minutes. To this point in the season, opponents are holding BU to .27 goals and 12 shots per contest.
BU looks to build on this momentum and improve to over .500 in the Patriot League in its next game on Wednesday night against Colgate University.
The Raiders (4-3-3, 2-0 Patriot League) are currently tied for first place in the league standings with Bucknell University, and it should be a good test for the Terriers as they look to regain some of the form that helped them secure their third straight Patriot League championship a year ago.