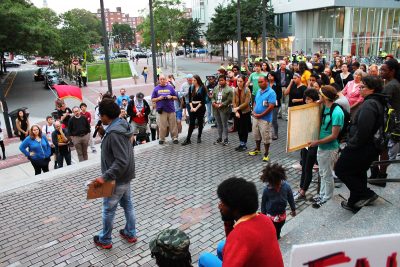 Mass Action Against Police Brutality hosted a "Speak Out" Friday evening at Ruggles Station, where a crowd of approximately 100 people gathered over the course of an hour to engage in conversation about police brutality.
Brock Satter, an organizer at MAAPB, explained that a Speak Out is intended to be similar to a rally, but slightly less formal. It was a chance for people to come together and talk about the recent police brutality cases across the country, and recognize that these issues exist in Boston as well, Satter said.
"A Speak Out is an opportunity for people who want to speak to gather and let their feelings out," Satter said.
Satter opened the event by chanting, "Indict, convict, send those killer cops to jail, the whole damn system is guilty as hell," until the majority of the crowd had joined in.
Nino Brown, another organizer for MAAPB, took the microphone after Satter and explained that police brutality is part of a larger systemic issue.
"It's a symptom of a larger disease that has to be attacked on every single front," Brown said.
Gabriel Schwartz, 25, of Jamaica Plain, a participant at the Speak Out, said he frequently comes to events like this to support Americans who are victims of police brutality.
"I'm here as a white person to show solidarity with people of color in the United States who are being viciously attacked and oppressed by a white supremacist police state," he said.
Elan Axelbank, 21, of Roxbury Crossing, who participated in the event, said one way to solve the problem of police brutality is to exert more democratic control over police forces.
"What we need is community control over the police — democratically elected oversight boards with full power to hire and fire police," he said. "Police are supposed to protect and serve us, but there's no democracy in that."
Another participant in the Speak Out, Cora Hirschfeld, 22, of Dorchester, said she thinks the solution is continuous pushback against police brutality.
"I don't go home and go to bed and think this is over," she said. "I think it needs to be an all-day, all-week, all-year fight."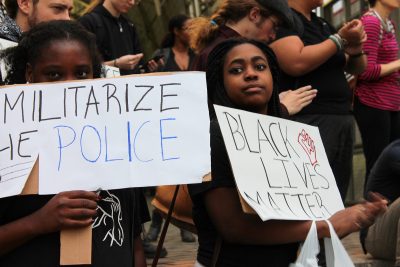 Both Brown and Satter emphasized the fact that police-related killings happen in Boston as well, although the cases might not necessarily receive a lot of media attention.
"We want to highlight that [police brutality] happens here," Satter said. "We have issues here."
For instance, MAAPB has been working with the family of Usaamah Rahim, who was killed by law enforcement officials in Roslindale last year, according to Satter.
"The Rahim family demanded that Usaamah's case be reopened because the district attorney ruled that it was a justified shooting, but there are a lot of problems with his findings," Satter said.
Rahimah Rahim, Usaamah's mother, attended the Speak Out to share her son's story.
Rahim said that the last thing she said to her son was, "I'll see you later" before he left the house on the day he was killed.
"I didn't see Usaamah again until I saw him laying in the emergency room on a stretcher, and he was dead, and his face was still warm," Rahim said during the event.
Upon leaving the emergency room, Rahim said both she and her daughter found that the FBI had impounded their cars.
"We were homeless and without transportation, without our cars, without anything," Rahim said. "And I said to this woman who said she was an FBI agent, 'How are we going to get home?' and she said, 'The best way you know how.' And she turned her back on us and walked away."
Rahim and her daughter were able to take a taxi to their respective houses, but by the time they arrived, the FBI had locked them out of their homes as well.
"We had nowhere to go … no way of trying to take care of his [Usaamah's] funeral arrangement," Rahim said during the event.
Rahim ended her speech by expressing her support for anyone else who might have experienced something similar, even though she said she and her daughter are still struggling to get their lives back to normal after Usaamah's death.
"We were terrorized, and we still are," Rahim said. "Our homes are monitored, our computers are monitored, so it's hard to get back to a normal life."