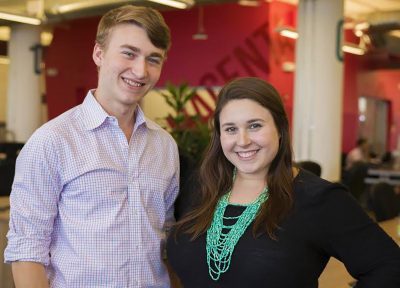 Many millennials may find tasks such as paying off student loans or investing for the first time as perplexing as hieroglyphics. Finance can seem foreign and all too confusing. LearnLux, a Boston-based startup, is working to make financial literacy accessible, "built by millennials, for millennials," according to their slogan.
And it just might be the Rosetta Stone for the millennial finance conundrum.
According to its website, LearnLux creates online learning tools to empower people to take control of their personal finances
LearnLux has five different products, and is in the process of launching another. Through its Buzzfeed-esque quizzes, the site asks you five questions to determine where you should start financially. Tearing down the façade of finance as a daunting concept, LearnLux strives to add confidence to the conversation around finance.
The changing conversation began thanks to a Clark University alumna.
Rebecca Liebman, co-founder and CEO of LearnLux, said she became enthralled with startups after living in Kenya on a research grant. However, it wasn't until she worked at a Climate CoLab at the Massachusetts Institute of Technology that she got an idea for one.
"While I was working at the lab, I was with a bunch of Ph.D.s and post-docs and one day at lunch they were telling me how they couldn't open a retirement account," Liebman said. "It was funny that the smartest people I knew couldn't open a retirement account. So I started thinking, how do you teach finance to highly intelligent people who have just never been taught finance?"
Rebecca's brother Michael helped her answer that question. Michael soon began as the COO of LearnLux, with his extensive background in banking. By September 2014, they formed a company that helps people in their 20s and 30s make their first big financial decisions, according to Rebecca Liebman.
As a female-founded startup in Boston, LearnLux has been recognized as a semifinalist in the Babson Breakaway Challenge, a "competition to promote gender parity in the VC industry and award $250,000 to a high-potential, women-led business," according to its website.
"Finance is a highly conservative, male-dominated industry that has been run by men for a long, long time," Rebecca Liebman said.  "And I think every time a woman starts a financial technology company, she is bound to change the system."
That said, women like Liebman show that the paradigm is shifting. According to womenwhotech.com, there was a 68 percent increase in women starting businesses between 1997 and 2014.  Liebman proudly represents this growing number of women founding financial technology startups.
"The last 60 years' average age to get married was 22 years old," she said. "And now, the average age to get married is 30. So there were 10 years when women never had to make financial decisions because they relied on their spouse. And now our generation is so different because there are millions and millions [of women] who are making financial decisions without anyone else."
The demographic of millennials begins to diversify as more women and international students are factored in. As a result, finance, Liebman said, needs to change.
"I think that everyone in some capacity has an issue in finance, because it's never taught in the education system," Liebman said. "When I was in school, I knew that 70 percent of people took on debt to go to school, and I know that I took on student debt. So I wondered, what does student debt even mean? When do you pay that back? It's almost incomprehensible. How do you even understand the concept of that?"
Jake Milberg, a freshman in the Questrom School of Business, said he thinks the application will have a real-life ripple effect on students.
"I hear almost once a day around campus someone make a joke about student debt," Milberg said.  "And I think that [LearnLux] can help with some stress. If you had some better education on it in order to be able to say, 'I have a plan in mind' rather than just drowning in four years of college debt."
By defining buzzwords such as "student debt," LearnLux aims to clarify the gray areas of personal finance.
Throughout his 38 years at Boston University, finance professor Israel Shaked has believed that finance's stigma of being inherently complicated can be torn down very simply, he said.
Shaked recalled a tutoring website his daughter used in high school for physics that used video tutorials for instruction, similar to LearnLux's style.
"Physics is more complicated than finance — way more complicated," Shaked said. "And if it can be done simply, finance definitely can be done also."  
LearnLux's main goal is to simply help young people who need financial guidance through innovative, new ideas, Liebman said.
"We help thousands of people make better financial decisions," Liebman said.  "Now, our goal is to help a million people make better financial decisions.  Growing, helping as many people as possible and adding more lessons."