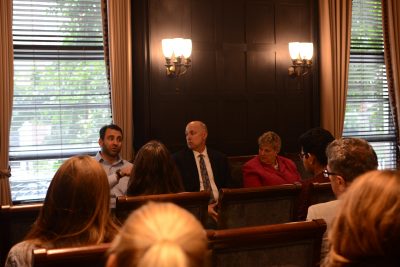 Members of local organizations that are working to address the global refugee crisis urged attendees at a panel on Tuesday to think deeper about the effects of the crisis and how they can offer help.
The panel, hosted by the Boston University Frederick S. Pardee School of Global Studies on Tuesday, aims to tackle the global refugee crisis through a local angle.
Panel organizer Vicky Kelberer, the graduate co-chair of Pardee's Initiative on Forced Migration and Human Trafficking, said about 65 million people have been displaced from their homes, but only 21 million were defined as refugees.
"I hope that attendees take away a sense that they are able to make an impact and that they can make a difference in this crisis," she told The Daily Free Press before the panel. "If people are inspired by the call to action, I hope they will take the next step and get involved as a volunteer or intern with one of the organizations."
Approximately 30 students, faculty and residents attended the panel, titled "Global Crisis, Local Action" at Pardee. The panel is a part of Refugee Education Week.
Lin Piwowarczyk, a doctor at the Boston Medical Center who directs the Boston Center For Refugee Health and Human Rights, asked the audience to imagine what it is like to live as a refugee.
"People are coming from parts of the world where there's conflict and violence, coming as individuals and families that are highly traumatized," she said during the panel.
Jeffrey Thielman, president and CEO of the International Institute of New England, said the organization faces similar challenges while trying to resettle refugees from Middle Eastern countries.
"This year, we're going to resettle about 630 refugees from places like Iraq, Afghanistan, the Democratic Republic of the Congo, Somalia and Syria," he said during the panel.
The IINE picks up refugees from the airport, prepares their houses and enrolls their children in local schooling as well as cultural orientation classes, Thielman said.
Within the first six months, the goal is to find enroll students in school, immerse the family culturally and find the father a job so he can provide for his family, Thielman said. The institute follows these families for up to five years to ensure their success in the United States.
Despite efforts to help families, Thielman said, anti-refuge and anti-foreigner rhetoric circulating the country can make it difficult for many to migrate to the United States.
"The noise can be discouraging," he said.
Sami Abdallah, CEO of the group Eyes on Refugees, encouraged students to visit a refugee camp to gain perspective. His group travels to camps in Europe.
The panelists also focused on the number of ways students can get involved. All three organizations accept applications for undergraduate and graduate internships.
Valeria Giachetti, 22, of Back Bay, said she wanted to learn more about the issues. While she was a student at BU, she majored in business in the Questrom School of Business.

"It opened my eyes to issues [and] lots of small ways to help," she said.
Sergio Valsahagun, a first-year graduate student in Pardee, said he feels like he can get involved by applying the information from the panel in his classes.
"It's important because it shows that organizations in Boston [play an] active role in this refugee crisis," he said. "It makes me, as a student in Boston, feel like that there's something I can do. This crisis is also so massive [and] bigger than a lot of things."
Brianna Ashley Gomez, a BU Class of 2016 graduate, said that as an intern at IINE, she is glad to learn about other organization's initiative.
"Hearing that they are continuing to resettle people is amazing," she said. "Eyes on Refugees seems like a very up-and-coming organization."