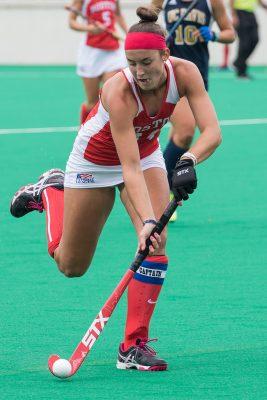 Following the erosion of its undefeated mark with a pair of consecutive losses, the No. 13 Boston University field hockey team will look to redeem itself when it hosts Harvard University, its rival from across the Charles River, at Nickerson Field on Thursday.
After emerging victorious from their first seven games of the 2016 season, the Terriers (7-2, 1-1 Patriot League) endured a rough patch this past weekend, dropping a 2-1 decision at the hands of Lafayette College on Friday before falling 5-1 to the No. 1 University of Connecticut on Sunday afternoon.
The usually stout BU defense, which ranks eighth in the nation with a goals against average of just 1.37, struggled in containing the high-paced offensive attack of UConn (9-0).
"The Lafayette [6-3, 1-0 Patriot League] loss was really disappointing because we felt like we did not begin that game ready to play," said BU head coach Sally Starr. "The UConn game was one that we actually played well in, but we just struggled defensively."
Utilizing an impressive bevy of ball movement, the Huskies outmanned the Terriers on the offensive side, releasing 11 shots that included three first-half goals. While the onslaught from UConn was to be expected (the team currently stands third in the country with an average of 4.56 goals per contest) the defensive lapses were an anomaly for the Terriers.
Heading into Sunday's action, BU had yielded more than a single goal in regulation time on just one occasion while shutting out its two previous opponents.
"We are looking at those two games as motivation to keep working hard and to keep getting better," Starr said. We need to take it one game at a time and one practice at a time."
While the Crimson (4-4) also played the role of victim in their meeting with the Huskies on Sept. 11, falling 4-0, the team is playing its best hockey of the season heading into Thursday's matchup.
After beginning the campaign in with a 2-4 record, the Crimson responded with a shutout victory over rival Yale University on Friday before garnering their most impressive triumph of the season on Sunday, a 3-1 victory over the No. 20 University of Maine.
"Harvard is a really good team," Starr said. "They are having one of their best years. They are talented and really well-coached. I'm looking forward to a really challenging match on Thursday night. We need to be at our best and do the things that we can control very well."
Heading into the battle with the Terriers, senior Marissa Balleza has been Harvard's best scorer thus far. Through the first eight games of the season, she leads the Crimson with five goals to accompany her two assists, having garnered over a third of her team's points for the season.
Balleza, who scored 13 goals for Harvard last season, has notched a goal in three of her last four appearances and will look to continue that momentum on Thursday.
While Harvard's offense, which ranks 63rd in the nation with an average of 1.63 goals per game, may not be the most formidable task that the Terriers defense has been faced with so far this season, its defense will provide a daunting test.
If BU hopes to come away with a win on Thursday,  expect the senior forward tandem of Amanda Cassera, who currently leads the Terriers with five goals on the season, and Taylor Blood, the team's pilot in assists with four, to play crucial roles throughout the contest.  
Starr knows it will be a tough test, as the Crimson enter the tilt ranked 28th in Division I in goals against, allowing an average of just 1.82 points per game.
"Maine has been averaging about five or six goals per game, and [Harvard] held them to just one," Starr said. "Their defense is really good. We need to shoot a little bit earlier, draw the corners, get shots and look for rebound opportunities."