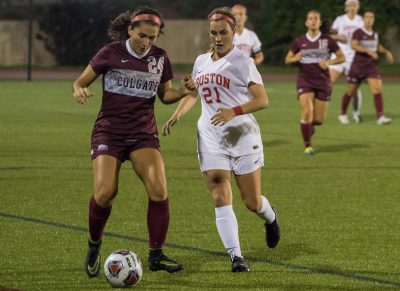 The late baseball great Yogi Berra famously coined the phrase, "It's deja vu all over again." It's a phrase that has been applying to the Boston University women's soccer team all season long.
BU (2-10, 2-1 Patriot League) lost the first 10 games of its season before finally getting in the win column with a 1-0 victory this past weekend at home versus American University. The Terriers found a familiar fate on Tuesday night, taking down another Patriot League foe, Colgate University, by the same score for its second consecutive victory.
As the season progresses and the Terriers play league games, momentum seems to be picking up for them — not too dissimilar from last year's results.
Entering league play in 2015, the Terriers found themselves sitting at 2-4-2 struggling on both sides of the ball and in need of quick turnaround against other conference opponents.
BU ended up tallying a record of 8-0-1 in league competitions, and rode the momentum it had going into Patriot League play last year, ending postseason play as league and tournament champions.
With the parallels to last season clear, the Terriers are showing signs of what's needed in order to win their fourth consecutive Patriot League crown, and BU head coach Nancy Feldman has noticed.
"It was a combination of us being process oriented," Feldman said. "We really looked out how we were playing and improving by being accountable."
Feldman's side defeated the Raiders (4-4-3, 2-1 Patriot League) in what was a battle of two physical teams.
An indicator of that were the 21 fouls were distributed between the two teams. Additionally, senior defender Rachel Bloznalis was given a yellow card for repeated infractions.
An 0-10 start is enough for any team to have serious doubts finding success, but Feldman praised the seniors for their belief in the process and dedication to turning the season around.
"They are a hard working soccer team that plays on the edge," Feldman said. "You need to be able to handle the physical pressure while staying composed and calm."
The lone goal for BU was scored by junior midfielder Jesse Shreck in the 15th minute. The Lido Beach, New York native received a through-ball from sophomore midfielder Dorrie Varley-Barrett and slotted it by Raiders goalkeeper Kelly Chiavaro for her first goal of the season.
Over the past two games, the Terriers have established a more aggressive pattern in the early going. BU has recorded first-half scores in each of its last two contests, helping it dictate the play over its opponents.
"Colgate is mobile and plays with a lot of imagination and creativity," Feldman said. "It was a team effort to limit the free looks that Colgate had."
Not to go unnoticed is the stellar defending and goalkeeping from BU over the past two games as well.
Senior Bridget Conway and junior Hannah Ciolek have still been splitting time in goal, leading to fresh bodies in net each half. Over the two games, the duo has recorded shutouts, with none of the 15 shots on them turning into goals.
"Both of them deserve to play," Feldman said. "We are trying to find a way to reward them even though the goalie is a challenging position to share time."
The Terriers look to make it three in a row when they travel to Loyola University Maryland for another conference matchup on Saturday afternoon.