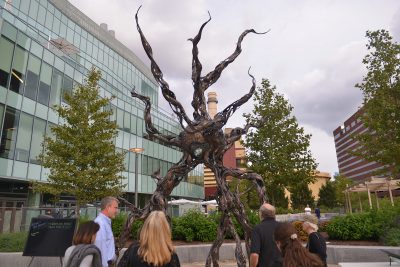 Chris Williams is a sculptor, but his most recent work might seem more like a science project.
The artist created a giant neuron constructed of metal and glass and spoke about it at Tuesday's HUBweek event "Activate Your Neurons." Located in Kendall Square, the sculpture was situated between medical research buildings to represent the fusion of science and art, Williams said. HUBweek, a weeklong celebration and exploration of "the future being built in Boston," showcased Williams' sculpture because it "symbolizes the network of individuals who make Kendall Square a nucleus of innovation."
Williams said he made the sculpture because he wanted people to start thinking about the type of research being performed in Kendall Square. BioMed Realty, a real estate company that caters to the life science community, funded the project. After the company called Kendall Square a "nerve center," Williams decided to make that the name of his sculpture.
The sculpture represents the spirit and the collaboration of the scientific community in the Boston area, Williams said.
"That's what happens in Cambridge," he said. "Everybody is studying and researching, and here we are trying to do an art project and we're sucked into that same energy. It was really a collaboration between a lot of … creative and intelligent people to get this to happen."
Williams' giant neuron looks like a tree with several branches sticking out, representing the parts of a neuron, including the axons, dendrites and nucleus. The nucleus contains a light inside of it that changes color every few minutes, along with smaller glass circles intertwined in the roots.
Viewers can see inside the center nucleus because it is made out of glass. Williams said these glass windows "appear to be pushing and bulging out of the … internal surface of the nucleus."
The artist, who started off as a welder, said he did not have a lot of prior knowledge of neurons. It wasn't until he actually looked at some cells that he really "appreciated the beauty under the microscope."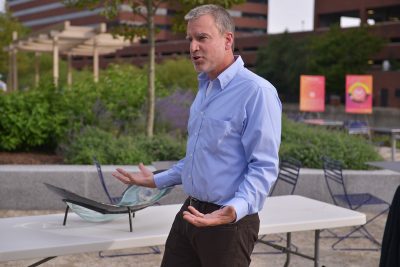 "When scientists look through microscopes, their artwork is hidden," he said. "There is creativity in every industry."
Williams said he noticed that many scientists use different color dyes to label different parts of the cell under the microscope in order to easily communicate with their coworkers. The changing colors of the lights in his sculpture represents this idea. He said "looking at cellular activity through colors" was inspiring.
The sculpture, which weighs just over a ton and took eight months to complete, is big enough to allow viewers to walk around and under it, creating an interactive element. There was also a board that invited viewers to write what Kendall Square meant to them. The board included comments like "live, work, play" and "a playground to discovery."
Williams has been sculpting for 20 years and is a third-generation metal fabricator. Between his mother's creativity, his father's knowledge of welding and his upbringing in Rockport, Williams said becoming an artist just made sense.
"[My mother] was the color and my father was the tools," he said. "It's just such a perfect blend."
Williams said one of his favorite parts of the art industry is the interactions he has with other artists and enthusiasts.
"The people that collect art, the people that are really into it [are] so different from one another that I never really know who I'm going to meet next," Williams said. "It's just amazing how all these separate lives are somehow connected with this creative vein."
This idea of connections between seemingly unconnected people is part of what drew Williams to the Kendall Square community, he said. Despite notions that art and science exist in two separate entities, Williams said there is a lot of art in science.
"I really hope that [viewers] will understand what Cambridge is about, what this project was about and … how connected we all are," he said. "Like it or not, we all reach out to each other to get things done and this is very symbolic of the thinking and the discovery of everything that we try to do."