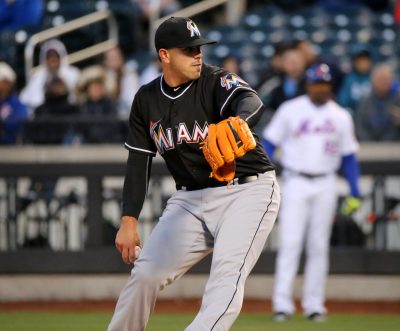 Sometimes people do not realize how precious life is until the unthinkable happens.
Fans of Miami Marlins All-Star pitcher José Fernández learned this the hard way after he died in a boating accident at the age of 24 on Sunday.  He was a passenger on a boat that crashed into a rocky jetty in the Miami Harbor, and was killed on impact.
Fernández, who was born and spent the majority of his childhood in Cuba, was on his way to becoming one of the brightest stars in baseball. His charisma and love of the game inspired ballplayers across the world.
In a heartbreaking press conference, Marlins Manager Don Mattingly spoke about the kid in Fernández and his big heart. He played the game like a man, but treated everyone, on and off the field, so kindly and genuinely.  
Nate Kern, president of the club baseball team at Boston University, echoed Mattingly's sentiments.
"I think he really emulated that little kid dream," Kern said. "He was clearly so enthralled and dedicated to the game he loved. When he came into the league I was just a sophomore in high school. He gave me something to work for and look up to as an aspiring athlete."
Fernández was well on his way to becoming arguably the second-best pitcher in the game, after Dodgers ace Clayton Kershaw. He had one of the nastiest sliders in the game and was able to mix pitches with the best of them.
Lifelong baseball player Will Adams, a junior in BU's College of Arts and Sciences, said it wasn't the numbers, but rather the life of Fernández, that needs to be highlighted.
Days before his death, Fernández posted a picture on Instagram announcing the pregnancy of his girlfriend and that he was excited for this journey with his family.
"The death of a star pitcher was a slap-in-the-face-esque reminder of the lives behind the player," Adams said. "Rarely do we think of pitchers outside of their ERA and WHIP, but they all have loved ones and share the same feelings as I do when I play."
After seeing Fernández's Instagram post, Adams said baseball didn't seem as important anymore in the big picture.
"It's a tragic loss, and if it taught me anything it's that an unborn child losing his father outweighs the potential of a million-dollar arm," he said.
Though it's hard to not talk about how incredible the Marlins ace was on the field, his love and sacrifice for others off the field was even more impressive.
"To speak on his off-the-field stuff, he was one of the most genuine guys in the baseball world," Kern said. "What you see is what you're going to get.  He's going to be charismatic, he's going to be humorous and I think that's a lot of what America loves."
Growing up in Cuba, Fernández's dream was to play baseball in the MLB, but the restrictions Cuba has on its citizens defecting to the United States made Fernández's dream difficult to achieve.  
He persevered and after three failed defection attempts — each one leading to jail time — he, his mother Martiza and his sister Yadenis Jiménez, successfully made it out of Cuba in 2007. On one of his attempts, his mother fell off the boat due to high waters, and José jumped overboard, risking his life to save her. This serves as another reminder to Fernández' selfless nature, and his success is the embodiment of the American Dream.
In a 2013 interview, Fernández showed off his two tattoos — the names of his grandmother, Olga, and his mother. The Marlins organized for his grandmother to come to the United States, and during the interview he discussed that everything he does is for her. In the middle of the interview, his face lit up as he was reunited with one of the most important people in his life. The man brought that same love, passion and exuberance every time he took the mound.
His joy for the game was refreshing, as was his joy for life. Any time he went out on the field, every baseball fan's eyes were glued to the screen. When he struck someone out, which he did at alarming rate (11.2 K/9 for his career), he would pump his fist. When he would throw a nasty pitch, he would smirk at the batter facing him.
In 2013, Fernández caught a piercing line drive from the Colorado Rockies shortstop Troy Tulowitzki.  Following the catch Tulowitzki mouthed, "Did you catch that?" and with his signature smile, Fernández nodded his head. There are countless stories like these from Fernández' career. It's a shame that he was only in the league for four years.
Fox Sports reporter Ken Rosenthal suggested via Twitter "a Jose Fernández spirit award, presented to the player who best exemplifies love and passion for the game." The award should get serious consideration from the league; what better way to pay tribute a man whose life and career were cut far too short.
Something for MLB to consider: A Jose Fernandez spirit award, presented to the player who best exemplifies love and passion for the game.

— Ken Rosenthal (@Ken_Rosenthal) September 26, 2016
"I personally think that's a fantastic idea," Kern said. "A lot of the stuff you read about this lack of youth interest in baseball …  It's more about these young, enthusiastic guys that are going to try to make kids fall in love with baseball again."
Marlins owner Jeffrey Loria said it best in a statement from the team.
"Sadly, the brightest lights are often the ones that extinguish the fastest," he said. "José left us far too soon, but his memory will endure in all of us."
Thanks for memories, José. The baseball world will never be the same without your smile.