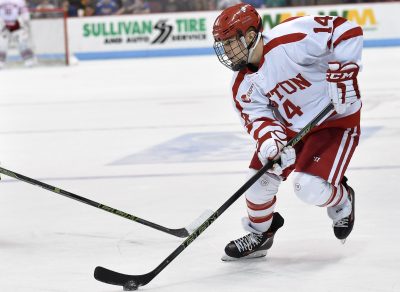 For the past few months, the No. 4 Boston University men's hockey team, buzz and hype have gone hand in hand. The hoopla has rolled off people's tongues nonstop, but now the Terriers look forward to just playing hockey.
The chance to do that – for the first time all year – comes Saturday night when BU hosts the University of Prince Edward Island for an exhibition game at Agganis Arena. The occasion will mark head coach David Quinn's first look at his team as a whole, namely what his highly-touted, nine-member freshmen class can offer the program.
"One of the things we never want to happen is our opponent dictates our passion and our enthusiasm and our pace of play," Quinn said. "We want to play a certain way, no matter who we're playing. I think our guys will be excited for that – it's the first game. I know it's an exhibition game, but you're still putting on the uniform and representing your university and it's an opportunity to prove yourself and measure yourself against good competition."
But in Prince Edward Island, a member of Canada's Atlantic University Sport conference, the Terriers should encounter a bit of mystery, even if it's of the elder variety. For starters, the Panthers have brought in 10 players for 2016-17, including J.C. Campagna, a 23-year-old winger, and Austin Levi, a 24-year-old defenseman. And their squad, led by head coach Forbes MacPherson, finished 11-17 a year ago.
Despite that level of unknown, Quinn made clear his team will be focused on laying the groundwork for one thing: pace of play. He said the Terriers, while they advanced to the NCAA Tournament's first round last year, strayed from playing fast game in and game out.
Now, with increased depth, led by 11 NHL draft picks, BU is focused on putting together thorough performances across three periods. And come Saturday, that onus should fall on a wide variety of players, with Quinn saying he plans on rolling out different line combinations and dressing as many people as he can. Quinn added he'll probably play all three goaltenders, meaning freshman Jake Oettinger, sophomore Max Prawdzik and junior Connor LaCouvee should see ice time at various points.
Still, the fact of the matter remains: due to NCAA rules limiting preseason practices, BU hasn't been on the ice much as a collective. With that, Quinn said, the Xs and Os aren't quite sorted out yet.
"Systematically we're not yet going to be on the same page, we're not going to be in sync just because we haven't had a ton of chances to work on our systems," Quinn said. "We have nine guys who are new in the lineup, so there's going to be some uncertainty, but we want to limit the uncertainty by playing fast."
And BU certainly has the roster to play with urgency, as its forward corps boasts talent that rivals the NCAA's best. Most notably, Clayton Keller and Kieffer Bellows, both alums of the U.S. National Development Team Program, arrive on Commonwealth Avenue on the tail end of a season in which they put up a combined 188 points. Then there's the sophomore class's elite, with Jordan Greenway, Jakob Forsbacka Karlsson and Bobo Carpenter looking to build off a combined 72 points from a year ago.
There's plenty of help on the blueline, too, as Quinn has the luxury of possibly rolling out six NHL draft picks in senior captain Doyle Somerby, juniors John MacLeod and Brandon Hickey, sophomore Charlie McAvoy and freshmen Dante Fabbro and Chad Krys.
Whichever way you slice it, though, Saturday's contest represents BU's first chance to lay the groundwork for its 2016-17 season. The result won't bear too much long-term significance, but Quinn will learn if his team can bring the pace of play he so ardently desires.
"When you're playing fast and decisive, it's a lot easier for the other four guys to read off you," Quinn said. "When there's hesitation, that's where there's indecision. I think if we come with an effort and play fast and skate fast and play through people, that's what I'm looking for. It's how consistently we do those things."