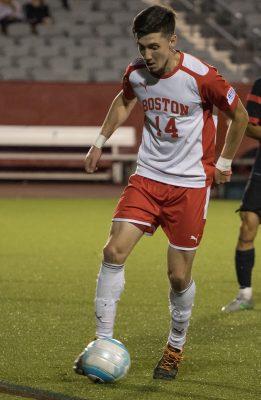 The Boston University men's soccer team dropped below .500 for just the second time all season after falling to American University 2-0 on a rainy Saturday afternoon at Nickerson Field.
While the weather certainly impacted field conditions, the Terriers (3-4-1, 0-1-1 Patriot League) were simply outplayed by a more aggressive and better executing Eagles (5-3-3, 2-0 Patriot League) squad.
The frustration even got to normally upbeat BU head coach Neil Roberts, as he made it clear he was disappointed in his team's performance.
"I just think they were more aggressive than we were," Roberts said. "They were tougher than we were. They just battled more than we did. That's very disappointing. They won the individual one-on-one battles, and that's probably the biggest disappointment of the game."
Despite being outplayed, BU entered halftime in a scoreless tie. One can even argue the Terriers should have entered the half with a lead, as early chances were squandered by freshman forward Matt McDonnell and senior forward Felix De Bona. Both players were set up by great passes from their teammates, but their shots sailed wide of the net.
Although BU won the possession battle after halftime, the Terriers were unable to muster any serious scoring chances. Meanwhile, the Eagles were effective at countering on the break. American was able to flip the field so quickly that the Terriers could not get enough men back on defense, often leaving senior goalkeeper Matt Gilbert defenseless.
To his credit, Gilbert played exceptionally well, as he came off his line to make some incredible saves that kept BU in the game. It was a busy day for the Madison, New Jersey native, as he tied a career high with 10 saves on 23 American shots.
Because American is good at counter-attacking, the shortcomings of the Terriers' midfield were exposed. Whether it was not getting enough men back on defense, sloppy turnovers or losing loose ball battles, the Terriers' mishaps in the midfield made it hard to get into an any sort of rhythm.
Roberts said he believes the majority of his team's trouble stemmed from these miscues in the midfield.
Junior midfielder Anthony Viteri was uncharacteristically quiet today, as the Eagles managed to hold him in check. The team's leading scorer only managed to put up one shot on the afternoon. Roberts felt that the rest of the midfield didn't do enough to step up and draw the focus away from Viteri.
It seemed Roberts was unhappy with the lack of physicality his team showed. He even went as far as calling his team's toughness into question. Physicality, he said, does not mean pushing and shoving, which the Terriers began to do in the final minutes.
"We've got to get more physical, meaning [applying] pressure and winning individual tackles and battles," Roberts said.
Having failed to pick up a single victory in their past three matches, the Terriers now find themselves in a tough spot as the Patriot League slate is set to heat up.
Fortunately, the Terriers have gotten two of their tougher conference games out of the way by playing Bucknell University and preseason favorite American.
Now, Roberts said his team must learn from its recent struggles and come back stronger this Wednesday vs. Colgate University.
"It is what is and we've got to straighten it out," Roberts said.