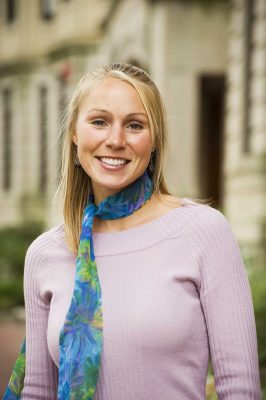 Boston University english professor Carrie Preston will become the next director of the Arvind and Chandan Nandlal Kilachand Honors College, the university announced Thursday.
Preston will start her term on Jan. 1, 2017, following a "rigorous" internal search to replace Charles Dellheim, the college's first director, according to a letter from the Office of the Provost.
Preston is "well suited" to serve as the college's director based on her "scholarly credentials, enthusiastic and innovative record of leadership, and passion for the interdisciplinary programming at the heart of the College's mission," the letter states.
As the new director, Preston said she hopes to integrate the college more thoroughly within the university, use the college's resources to promote educational goals and push the college's interdisciplinary perspective outward into the City of Boston. 
Preston said she wants to facilitate co-curricular activities and service learning projects for Kilachand students to engage with in an interdisciplinary fashion. With the students' creativity and critical thinking skills, these projects will address "deep social and cultural problems" within Boston, she said.
"I'd love to put the energy of the great group of students and faculty at KHC towards solving some of those problem like poverty, racism, crime [and] climate change," Preston said. "All problems will require tons of creativity."
Preston isn't new to addressing issues of social justice — in 2012, she supported a group of her students to lay out the foundation of what is known today as the Sexual Assault Response and Prevention Center. 
Preston said she had instructed her students to form some sort of activist project, and a particular group used this assignment to advocate for SARP, which came to fruition the following year.
In anticipation of this transfer of leadership, some Kilachand students said they are already looking forward to a fresh, new perspective.
David Barton, a senior in the College of Engineering and a Kilachand Ambassador, said he was sad to hear the news of Dellheim's departure. However, Barton said he is excited to see new ideas that Preston will bring to the college.
"A lot of people from KHC were upset to hear [that] professor Dellheim was stepping down," Barton said. "He has done a great job in bringing the honors college to where it is, but it's even more important now to have a fresh perspective to help to keep improving the environment and the philosophy that KHC tries to promote in general."
Kilachand Ambassador Evan Armacost said while the honors college fosters a welcoming community, it sometimes lacks interaction with the rest of BU student body.
"Kilachand community [is] a bit detached from the rest of the university," Armacost, a junior in the College of Arts and Sciences, said. "Kilachand students know that Kilachand is a great place to be, but I would love for other students to know that we don't want to exclude them."
Saira Malhotra, a Kilachand student and CAS senior, said she is looking forward to seeing how Preston will incorporate her background in social justice into her time as a director. 
"Having a generation of students who are aware of social issues and educated on them is very important," Malhotra said. "I hope that, through her approach to the curriculum, [it] will be achieved."
CAS and Kilachand junior Nicole Rizzo said that, as a recent mentee of Preston, she hopes Preston's "empowering" and "energizing" personality can reach more people.
"[Preston will provide] a platform in which everyone has a voice," Rizzo said. "I really think she's going to bring a brand new energy to the program."