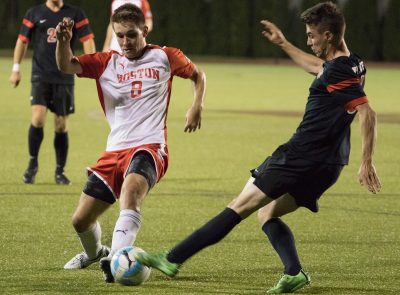 Despite constantly hounding its opponent in the second half, the Boston University men's soccer team lost to Colgate University Wednesday night in a Patriot League conference match for the first time. It was a 2-1 score in favor of the Raiders (7-3-0, 2-1-0 Patriot League), who handed the Terriers (3-5-1, 0-2-1 Patriot League) their third consecutive defeat.
Although BU lost the match, and is now winless in its past four contests, BU head coach Neil Roberts is still happy with how well his team has played over the past couple of games. He feels that in order to get back on track, it's just a matter of making sure they don't give their opponent momentum-shifting goals.
"We played well and had good control of the game, and we just gave up goals at bad times — soft goals," Roberts said. "We make mistakes and teams capitalize on them."
Colgate got its first goal in the 25th minute off of a solid through pass by forward Freddy Jonsson, who chipped it into the box almost 10 yards outside of the net. It found a streaking senior Zach Pagani, who slid into the box to put it in the bottom right corner, beating senior Terrier goalkeeper Matt Gilbert as he desperately tried to defend the two-on-one with a diving save.
The Terriers leveled the score later in the first half, with junior midfielder Anthony Viteri kicking it out to the far side of the pitch. His pass found senior forward Mark Wadid, who crossed it back into the box for freshman forward Matt McDonnell, who was a substitute in the game. The Smithtown, New York product headed it home for the equalizer, his third goal of the season.
McDonnell's play, much like fellow freshman midfielder Jerry Ozor, who started his second straight game for BU, has been noticed by Roberts and his staff. He noted that his team is "on the same page" from top to bottom, as it has come along in the midst of a three-game losing streak.
"I like this team and I think they work hard," Roberts said. "I think they are talented, but it is not going our way right now."
In the 62nd minute, Gilbert made a solid save to keep the score tied, but was unable to stop Pagani again as he stepped into the box, split two defenders and potted one into the bottom left corner to put the Raiders back on top for good.
After several attempts by BU to send the game into overtime, Gilbert sent a Hail Mary kick into the attacking third. The Terriers were called for a handball, though, and the game was sealed for Colgate.
Looking to the team's next game in Baltimore against Loyola University Maryland this Saturday, Roberts emphasized that it will take a short-term memory and hard work to shake off the recent string of results.
"We can't feel sorry for ourselves," Roberts said. "We have to go on the road and get points. That's the big thing. We know if we can get our act together, we can be a good team. I think if we play like today, and cleaned up some of the mistakes, we will get points."