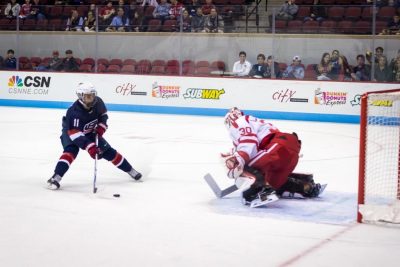 It's easy to notice the young guns out there doing their thing out there for the No. 4 Boston University men's hockey team, because, well, they do it so often.
There's depth, there's speed of play and there's swagger, but it appears as though BU's comfort cushion might come in the most unexpected spot of all: goaltender.
With the United States National Team Development Program visiting Agganis Arena on Thursday night for an exhibition game, head coach David Quinn's top two 'tenders – freshman Jake Oettinger and junior Connor LaCouvee – split time, impressing throughout. The final score was 8-2 in favor of BU, and sophomore forward Bobo Carpenter left feeling confident about a position where the job has one requirement: stopping the puck.
"It's always good to know you have some great goaltending back there," Carpenter, who finished the night with five points, said. "You can always count on them to come up big whenever we need them, but we also want to up front help them out as much as we can to make their job a little bit easier. I think it's definitely a good give and take we have as a group with each other."
While there were two blemishes on the night – shorthanded breakaway goals from NTDP forwards Josh Norris and Jacob Tortora late in the first and second periods, respectively – Oettinger and LaCouvee stood resolutely when tested. The former finished with three saves, while the later made 16 stops of his own, largely stymying college hockey's stars of tomorrow.
For the most ardent or casual of fan, the question then arises: Who gets the starting nod when BU gets its 2016-17 season officially underway Saturday night at Colgate University? Quinn, as one would expect, was quite mum on the matter.
"I haven't really thought much of it," Quinn said. "I'll take to them, Brian [Eklund], our goalie coach, watch the game and go from there. I thought they both played well."
One could hardly blame Quinn's response, though, especially when glancing over their track records at BU and beyond. Oettinger spent last year playing with the U.S. NTDP, posting a 2.38 goals-against average and a .908 save percentage. Meanwhile, LaCouvee played a secondary role when BU made the 2014-15 national championship game, and he finished with an 8-4-4 record last season.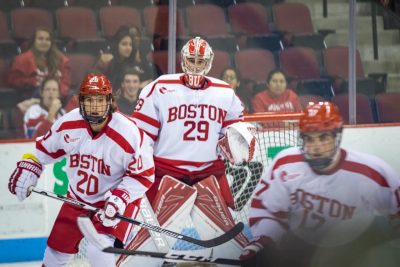 On a team such as BU's, though, Oettinger and LaCouvee aren't the only ones keeping the opponent at bay. Rather, Quinn's squad boasts six NHL draft picks on the blue line – a reputation LaCouvee said allows him to get into his groove.
"It's definitely nice because when you have such strong D like that you can worry about the simple plays," LaCouvee said. "You're not really worrying about the backdoor options and our D-men fumbling the puck in front of the net – that doesn't really happen with the type of players we have. I think we have the best D corps in college hockey, and it helps the goalies out a lot."
Against the NTDP, the Terriers were still tested, though. Their foes had nine power plays – a number Quinn stressed needs to decrease against NCAA teams – and BU stopped every one.
When those occasions arose, Oettinger and LaCouvee were often helped by BU's new penalty-kill tandems, namely that of freshman forward Patrick Curry and senior forward Nick Roberto. They were constantly getting their sticks in passing lanes, while perhaps most impressively of all, BU blocked 14 shots.
"It always gets the energy going whenever someone blocks a shot like that," Carpenter said. "The atmosphere changes dramatically getting everyone ready to go out after the penalty and everything like that. Everyone's working hard all the time, but the subtle plays like the blocked shots, you can tell the team is really excited and wants to keep going and push after that."
That push Carpenter referenced becomes reality this weekend, too, when Colgate (0-0-1) becomes BU's opponent. The test won't be easy by any means, but LaCouvee urged the building blocks are falling into place.
"I think we have just such a strong year this year, but more than that we have great chemistry within our team," LaCouvee said. " … It reminds me a lot of freshman year to be honest. I think we're going to do really well this year, obviously because we're such a skilled team, but I think everyone works so hard and everyone is willing to compete for one another."