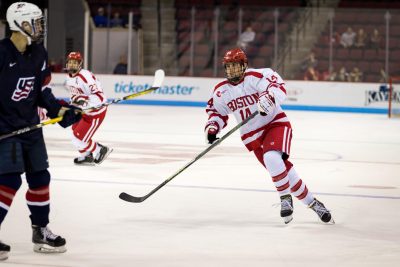 The No. 4 Boston University men's hockey team picked up right where they left off, as their high-octane offense excelled once again in an 8-2 rout of the United States National Team Development Program at Agganis Arena on Thursday.
After putting up 10 goals in their scrimmage versus the University of Prince Edward Island in a penalty-filled contest Saturday, the Terriers still found the back of the net with ease in a much more fast-paced game. Freshmen forward Pat Harper notched a hat trick after scoring five times in Saturday's win, while sophomore forward Bobo Carpenter added two goals and three assists of his own.
Freshman forwards Clayton Keller, Patrick Curry, and defenseman Dante Fabbro also scored in the blowout, while freshman Jake Oettinger and junior Connor LaCouvee split time in net.
"Overall, [I'm] happy, because we got better," said BU head coach David Quinn. "We were better today than we were last Saturday, and I thought we had a good week of practice and I thought we were better today than we were yesterday."
Despite only beginning practice as a team last week, the Terriers as a whole performed well on the power play. They went 2-for-9 on the offensive end, while holding the Under-18 team without a goal on nine power plays of their own. Quinn liked the power play numbers, but wishes his team would cut down on the penalties even more.
"I liked how we hounded the puck, obviously we were opportunistic again," Quinn said. "2-for-9 on the power play, not bad, I wish we were a little more opportunistic there. Our penalty kill was good, they go 0-for-9. But again, nine penalties is too much again. But we went in the right direction, so we knocked off five, maybe we knock off five more and we can get down to a more reasonable number on Saturday night [against Colgate]."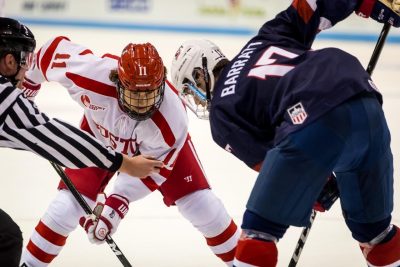 The game took off at a fervent pace, something that wound up working in the Terriers favor. BU capitalized right away, as Harper collected a pass from Keller on a breakaway and went five hole to beat U.S. NTDP goalie Dylan St. Cyr just under five minutes into the contest. About a minute later, Curry deflected a shot from defenseman Chad Krys into the top right corner of the net for his first preseason goal.
Then, with over 12 minutes left in the period, Carpenter found himself in the right place at the right time, tapping in a rebound in front of the net to push BU's lead to three. Despite giving up a last second shorthanded goal to U.S. NTDP's Josh Norris, the Terriers had a dominating 18-4 shot advantage in the frame.
The first line of Harper, Carpenter and sophomore assistant captain Jakob Forsbacka Karlsson stole the show in the win, as the three forwards combined for 12 total points. Carpenter, who scored 13 goals while mainly playing the center position last season, said he feels much more comfortable on the wing, and part of that is the support from his linemates.
"I definitely think the second year's been extremely more comfortable for me, especially playing with two great guys like Harper and Jakob," Carpenter said. "They just help me on and off the ice, and I think our chemistry is really great together, so it's been really fun playing with them so far. We have a lot of fun together, so I think that's what makes it really good for us."
In the second period, it was more of the same, as BU again outscored the Under-18 squad 3-1. Harper collected an errant pass in the slot and fired the puck past St. Cyr just 24 seconds into the period, and under a minute later, Keller scored with ease on a 2-on-1 breakaway. Harper would score again on an easy shot in front of the net at the six-minute mark to secure the hat trick.
The third period started with an immediate goal from Carpenter after a nice toe-drag move from Harper. Fabbro, who led BU with seven shots on goal, would find the back of the net later on with a blast from just in front of the blue line.
The Terriers play made it evident that the team was already comfortable with each other and the system. Quinn said he likes the team's understanding of the system so far, but also knows there is plenty of more work to do.
"We're getting there, still got a long way to go, but I think every coach in the country is going to say that and going to feel that way," Quinn said. "Right now, you're just looking for a great effort, and I thought we established a forecheck tonight, and I thought we spent a lot of time in the offensive zones, we made better decisions offensively."
With two impressive exhibition performances under their belt, the Terriers will now hit the road for the first time this season for a matchup with Colgate University on Saturday. Quinn stressed the importance of players focusing on recovering as the team's first regular-season game inches closer.
"It's early, it's going to be a work in progress, we're going to be challenged again on Saturday night," Quinn said. "How we recover and how we take care of ourselves is going to go a long way in determining the outcome for Saturday."