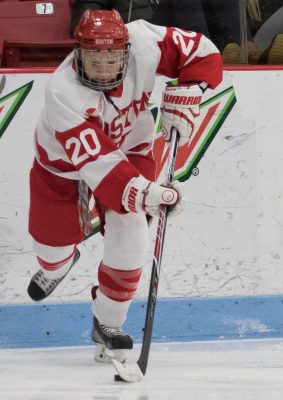 The No. 12 Boston University women's hockey team will play the University of New Hampshire and University of Vermont this weekend for its first doubleheader of the regular season. After securing a pair of wins in their exhibition game and season opener, the Terriers (1-0, 1-0 Hockey East) had 12 days off before hitting the ice again.
BU will face UNH (0-2) at Walter Brown Arena on Friday night before traveling to Vermont for Sunday's matinee with the Catamounts (1-0).
"Sometimes the seasons start slowly but it gave us time to work on some things," BU head coach Brian Durocher said. "Some of the kids who haven't played a couple of college games, now they'll be ready to go as we continue in Hockey East."
In their season opener, the Terriers' offensive capabilities shined, as they defeated Providence College in what was also the first conference game of the season. Senior goaltender Victoria Hanson and senior forward Samantha Sutherland earned Hockey East honors last week as Defensive Player of the Week and Player of the Week, respectively. Despite a 1-0 start, BU still has a lot of work upcoming, and that starts this weekend.
After a disappointing 11-24-1 record a season ago, the Wildcats had something to prove this year, and they started on the right track with a 2-0 exhibition win against the Whitby Wolves on Sept. 23. After an impressive 2015-16 campaign, defenseman Amy Schlagel continued to shine for UNH. The Blaine, Minnesota native had a goal and an assist in the Wildcats' opening contest.
"Whenever you have people that shoot the puck well like [Schlagel], we pay a little extra attention and those are notes that we keep in our pregame reports." Durocher said.
The Wildcats' success did not continue into last weekend's games, though. They fell to Colgate University 4-2 on Saturday and 3-1 the following afternoon. Junior Julia Fedeski, who had 11 points last year, scored both of her team's goals on Saturday and should be critical to UNH's success moving forward.
On the other hand, the Catamounts should be a tough matchup for BU, especially after last year's Hockey East quarterfinals where they faced off against the Terriers. BU won the best of three quarterfinal two games to one in 2015-16, and Jim Plumer's side will be looking for vengeance this weekend.
In its first game of the season last weekend, Vermont landed a 5-1 win against Union College. Forward Mackenzie MacNeil and freshman Eve-Audrey Picard each scored twice against Union (0-3). Durocher and his squad will to minimize their contributions on Sunday.
"Over the years, it has never been easy up in Vermont," Durocher said. "Their rink is a little big bigger than ours, they're well-coached, and they've got good players. There's a newness of playing on the road as a collective group. There's a little more discipline that's needed when you don't get the extra energy from the crowd or the band."