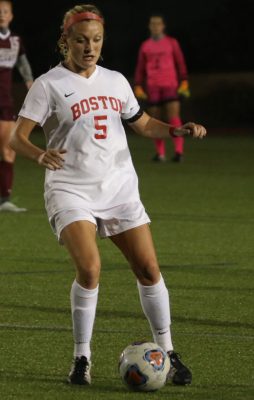 The Boston University women's soccer team will look to win its fifth straight game when it takes on Harvard University on Tuesday night in Cambridge.
The Terriers (4-10, 4-1 Patriot League) started the season 0-10, with nine of their first losses coming against out-of-conference opponents.
BU hopes to reverse its trend of losing in out-of-conference play against the Crimson (7-3-1), who are 5-0-1 in their last six games.
Despite early-season struggles out of the Patriot League, BU assistant coach Emma Clark is focusing on the task ahead, regardless of conference.
"We don't prepare for out-of-conference games any differently," Clark said. "We have to go into every game the same way and not look at our old record or record against out-of- conference opponents."
Harvard is one of the better home teams in the Ivy League, with a home record of 4-1-1. That could be a cause for concern for BU, as the Terriers have struggled on the road to this point, with an away record of just 1-5.
Regardless of Harvard's record and conference, BU plans by focusing on its own strengths.
"We don't worry about what the other team is doing," Clark said. "We try to continue to develop and focus on ourselves. We emphasize what we do well."
Harvard has been dominant at home due to their strong defense. They've only allowed 1.07 goals per game this season, but allow a miniscule .64 goals per game at home.
Harvard's defense is tough because they don't allow the opposing offenses to get through to the goalkeeper. Their keepers have had to save just 34 shots all year.
On the other side of the ball, The Terriers' attack will look to put constant pressure on the Crimson defense in order to rack up some goals. BU's offense has come around throughout the winning streak, scoring a goal in each of the four games, including three goals in its most recent win over Lafayette University on Saturday.
Behind a strong midfield and sophomore forward McKenna Doyle, who has scored two goals and assisted on another, and junior midfielder Jesse Shreck, who also has netted two, the Terriers' offense is now one of the better ones in the Patriot League.
"All of our players need to have an impact," Clark said. "We have to put pressure on them all over the field, starting with our defense. All 11 of us have to pressure their defense to try to tip the game in our favor."
While its offense will try to break through the solid Crimson backline, the BU defense will have its hands full with Harvard's offense, led by senior Margaret Purce.
Harvard ranks fourth in the Ivy League with 1.55 goals per game. Purce ranks first in goals with nine, first in shots with 54, and second in points with 20, so BU head coach Nancy Feldman and her squad will be working to limit her opportunities.
The Terriers' defense has been wall-like recently, though. They have shut out their past four opponents and have dealt with dangerous attackers in the process, namely freshman Abby Sotomayor of Colgate University and senior Melissa Lynskey of Lafayette (4-5-3, 1-3-1 Patriot League).
BU's defense, anchored by senior defender Rachel Bloznalis, will look to shut out its fifth straight opponent as it deals with Purce and the Crimson attack. Bloznalis was recently named a Senior CLASS Award candidate.
"Preparing for Purce is just like preparing for anyone," Clark said. "She's very special and dynamic, so we have to limit her touches and be in the area whenever she has the ball. She commands extra respect, but we have to focus on them as a group."