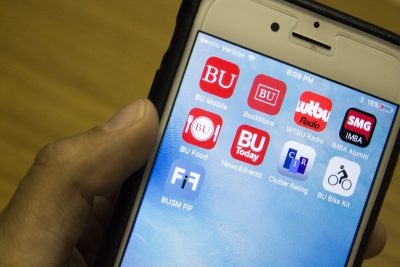 In today's technological era, Boston University has to adapt to keep the interests and attention of its students. One way the university has attempted to do so is through various smartphone applications. With numerous helpful services and platforms, BU's mobile apps are becoming more integrated into daily student life.
Ron Yeany, the assistant director for applications at BU Information Services and Technology, said the university has created four applications for Apple products, including BU Mobile, BU Today News and Events, Finding Information Framework and Revenator.
"BU Mobile is the most used app, and BU Today News and Events is the second most used," Yeany said. "The live bus tracking feature is the most used feature of all the apps."
While Revenator, an app that can help user to estimate a restaurant's value, is currently not on the Apple App Store, Yeany said there are a few BU applications that were not officially created by IS&T, such as Clutter Image Rating App, BU Bike Accident Toolkit and BU International MBA Alumni.
"There are three apps under the BU developer's account that we did not develop," Yeany said. "These were developed by either a department or by a contract developer who was working directly with the department. We just distribute the apps through Apple Store."
There are also many unofficial apps on both the Apple and Android stores, Yeany said, but they are not affiliated with any department within the university. These include applications like the BU Food app, which is often mistaken to be an official application.
Some of the unofficial apps are the product of Global App Initiative, a BU student organization that promotes change through developing apps for nonprofits. Global App Initiative Vice President of Operations Lubov McKone said they help groups and clubs at BU create their own apps to distribute.
"We partner with nonprofits to develop applications for them because they usually don't have the resources to do that," the College of Arts and Sciences junior said. "We also teach students how to make an app, [and] educate people in both application developments and in nonprofit services."
Global App Initiative has developed an app with WTBU, BU's student radio station, Global App Initiative Assistant Vice President of Operations Fiona Whittington said.
The sophomore in the College of Communication said the app had "won the Hackathon and is being released this week on the App Store."
Whittington said she is discontent with the absence of BU applications for Android and other non-Apple smartphones.
Yeany said the decision to release the applications solely on Apple's platform came from the popularity of the iPhone, but the university might develop Android version as Android platform evolves.
"When we first started developing the BU apps, iPhone users were significantly higher than Android," Yeany said. "We are looking in developing for both iOS and Android for the next application that we plan to develop, and then depending on that development project goes, we may revisit the idea of adding android versions to previously developed apps."
Several students said they appreciate the university's effort to develop mobile apps, but the efforts aren't always good enough.
Margot Menestrot, a junior in the Questrom School of Business, said she doesn't utilize the BU apps because they are outdated.
"Especially the shuttle, [the time] is not accurate," Menestrot said. "I usually only use the BU App for the bus."
Aurelia Paul, a CAS junior, said the university could add more applications to its current list.
"They really should make an app for the StudentLink," Paul said. "The StudentLink is so old and it needs to be fixed."
Shelley Herman, a junior in CAS, said BU is failing when it comes to changing to the digital age because "there are so many different platforms and it should all be in one, [but they] are not trying hard enough, and they need to get with the times."