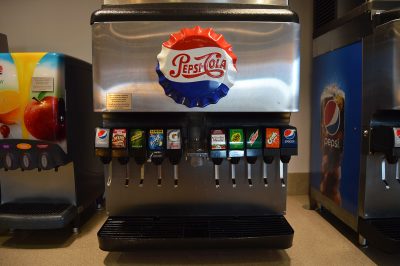 The Coca-Cola Company and PepsiCo, the two largest soda companies in the United States, sponsored at least 96 national health organizations from 2011 to 2015, according to a Boston University study published on Monday.
The study, conducted by scholars from the BU School of Medicine and School of Public Health, researched sponsorships and lobbying efforts by PepsiCo and Coca-Cola, and found that the two companies lobbied against 28 bills intended to improve public nutrition, according to the study's press release.
"Because soda companies do lobby so much against public health that makes it even more alarming that health organizations are accepting these sponsorships," lead author Daniel Aaron said. "The interest of these two groups are completely opposed."
The study had two parts: the first showed evidence of these sponsorships, and the second part analyzed these soda companies' goals of these sponsorships, Aaron said.
"Their intent affects how we should analyze these sponsorships," Aaron said. "They have an intent of improving profit and not helping public health."
Michael Siegel, co-author of the study and an SPH professor, wrote in an email that the soda companies' manipulation of the health system is similar to what the tobacco industry did.
"The soda companies are essentially using health organizations as pawns in a grand marketing strategy," Siegel wrote. "We saw the same thing with big tobacco. By accepting money from soda companies, health organizations are actually helping these companies to promote their products."
The study recommends that health organizations reject sponsorships offers from soda companies and find alternative sources of funding.
"People should be alarmed by the fact that many of the health organizations they trust to provide objective scientific information are being influenced by conflicts of interest created," Siegel wrote. "These groups are taking soda company money or partnering with these companies."
According to Siegel, there are no regulations that prevent soda companies from sponsoring health organizations.
"We are not blaming the soda companies," Siegel wrote. "Their mission is not to protect health but to make profits from the sale of soda. So it is perfectly legitimate for them to use corporate sponsorships as a marketing tool."
The responsibility lies with the organizations, Siegel wrote, which are accepting this funding.
"They do have a mission to protect the public's health but they are shirking that mission if they accept money from companies that are lobbying against any and all public health measures intended to reduce soda consumption and reduce obesity," Siegel wrote.
Several student said they have mixed opinions regarding the report — Sam Quick, a freshman in the College of Arts and Sciences, said health organizations who took money are morally in the wrong.
"If they want to keep their integrity for what their goal is, then clearly taking money from these [soda] companies goes against their values," Quick said.
Alicia McHugh, a freshman in CAS, said the health organizations should be able to receive and use money as they see fit.
"Money is money," McHugh said. "Even if it comes from somewhere that doesn't agree with what they're doing, they can still use the money."
Isabelle Di Rita, a freshman in the College of Communication, said even though what the health groups are doing "doesn't seem ethical," she isn't informed enough to know if these actions are morally wrong.
"I don't know really enough about it to know what else is going on behind the scenes or who's running it," Di Rita said.