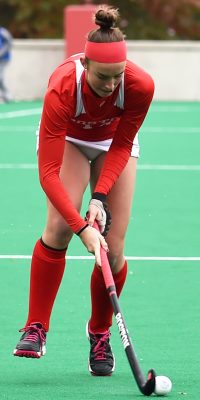 Over the course of its recent four-game losing streak, the No. 14 Boston University field hockey team struggled to produce goals. Lafayette College, No. 1 University of Connecticut and No. 4 Duke University all limited the Terriers (8-4, 2-1 Patriot League) to just one tally each.
After helping the Terriers start their season with seven straight victories, senior forward Amanda Cassera found herself limited by increased defensive pressure from opposing teams during the skid. In the first seven games, though, she put up five goals.
The Fairfield, New Jersey, native failed to garner a single shot on goal during the Terriers' losing streak, a change of pace from the five shots she contributed in a 9-0 defeat of Colgate University on Sept. 17.
However, Cassera returned to the score sheet in Saturday's 2-1 victory over Bucknell University, and her impact on the rest of the squad was evident.
In the 21st minute, Cassera fielded an assist from senior midfielder Hester van der Laan on the left side of the net, and ripped a shot past Bison goalkeeper Emily Finn for her team-high sixth goal of the season.
BU head coach Sally Starr was happy to see one of the team's key contributors find her form again.
"That was awesome," Starr said. "[Cassera] put herself in the perfect position to score."
Penalty corner success key against Bucknell
BU's efforts on penalty corners in Saturday's tilt also represented an impressive turnaround from its showings during the losing streak.
The Terriers garnered a paltry three corner chances compared to Duke's 15 in their loss to the Blue Devils (11-2) on Oct. 2. In its matchup with Harvard University, also during the losing streak, they only amassed five corner opportunities.
Against Bucknell, BU put up six penalty corners, and though none of them resulted in goals, they put more pressure on the defense. This is something that Starr has been stressing in recent weeks.
When asked what led to the team's eighth victory on Saturday, Starr did not mention penalty corners, instead noting other factors that don't show up on the box score.
"Attention to detail and attention to our fundamentals, controlling what we could control and having a good week of practice," Starr said. "We prepared as well as we could, mentally and physically, to play a good hockey game. We took care of our sleep, nutrition and preparation. If you do these things well, you are going to play well."
BU's defense remains stout
The Terriers' recent offensive pressure also seemed to influence their defensive approach in a positive manner.
Bucknell made things easy for BU senior goalkeeper Cammy Jensen, who was only forced to make one save after stopping a combined 14 shots in her last two outings.
Jensen's success mirrors the Terriers' superb defensive intensity of late, with their goals against average of 1.36 ranking eighth in the nation. While their offensive drought prolonged, the Terriers defense held strong, yielding just a pair of goals to a Blue Devils side that ranks 13th in the country in scoring with 3.33 goals per game.
"Our mantra is that constant pressure creates turnovers," Starr said. "From our striker line, to our midfielders, to our backs, we are doing a really good job of that. We are creating opportunity by good defensive pressure. Our defensive organization has really improved as well, something we have focused on in practice."
The Terriers will look to continue their stout defensive ways Saturday afternoon as they host a Lehigh University side that has won its last four contests. Starr believes communication will continue to be key this weekend and beyond.
"We have a saying that if you are not talking, you are not defending," she said, "and I think that our communication, our talking to each other, is helping as well."