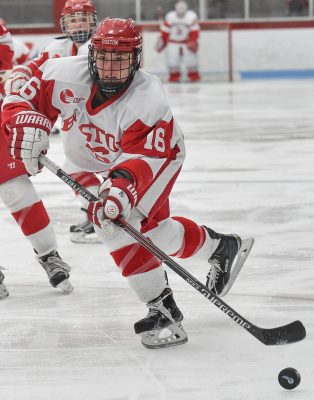 The Boston University women's hockey team will be going on the road again this weekend, this time to University Park, Pennsylvania to take on Pennsylvania State University in a double-header set for Friday and Saturday.
The Terriers (2-1, 2-1 Hockey East) will aim to add to their win column after last weekend's mixed results: a win at home vs. the University of New Hampshire and a loss at the University of Vermont.
"You want to bounce back quick because if you prove successful at doing that then you avoid the dreaded losing streak," said BU head coach Brian Durocher. "I think we got a chance to look at some things that we're in control of, and it'll be up to us to do those things."
BU's offense shined against UNH (0-4, 0-1 Hockey East), scoring five goals from four different forwards, including one power-play goal. Senior forward Samantha Sutherland claimed two of the five, maintaining her team-leading goal count with seven this year.
The Terriers did not have the same success on Sunday against Vermont (2-0, 1-0 Hockey East), however, as they scored only twice, both by Sutherland and assisted by her linemate, sophomore forward Sammy Davis.
"We didn't play a great game last Sunday from a physical standpoint," Durocher said. "We didn't execute as well as our talent allows us to, but we're focusing more on the little things."
Despite the offensive success, the Terriers' loss against the Catamounts signals some inconsistency, which Durocher admitted will be important going forward.
"Consistency is the mark of a top team," Durocher said. "You talk about having a great regular season, you want to win a Beanpot or some of those instant gratifications, but I think when you play well throughout the season and have consistency, it's going to produce pretty good results."
BU's history against Penn State (1-3) is short, as last season was the first year the two teams faced each other in program history. The Nittany Lions travelled to Walter Brown Arena in a similar weekend double-header in early October last year, claiming the first contest by a score of 5-3.
Two of the three goals the Terriers scored were from former seniors Sarah Lefort and Rebecca Russo, while the third came from current junior forward Victoria Bach. Two of Penn State's goals came from current leading scorer senior Laura Bowman and defenseman Bella Sutton, who is tied for team leader in assists.
In the second game against Penn State, the Terriers gave it their all, topping Penn State 3-1 with goals from Sutherland, Davis and junior forward Rebecca Leslie.
"They're a team now going into their fourth season as a varsity program, so they're probably continuing to climb the ladder of challenge," Durocher said. "… We expect them to be a real tough opponent."
Penn State has struggled out of the gate this season with just one victory. Last weekend, the Nittany Lions split a weekend series with Union College. Their win however, featured eight goals — and two hat tricks — scored by Bowman and senior Amy Peterson.
"Our big thing is to make sure we know who the important players are out there," Durocher said. "We might try to match up one line against some of their top kids, but in the context of a hockey game, line changes and them getting on us change."
The Terriers will have two opportunities to best Penn State, and will do their best to, according to Durocher.
"The kids know that they've got a quality team, and an even better team than last year," Durocher said. "We're playing on the road, so it's going to be a big challenge, and hopefully we're up to it."