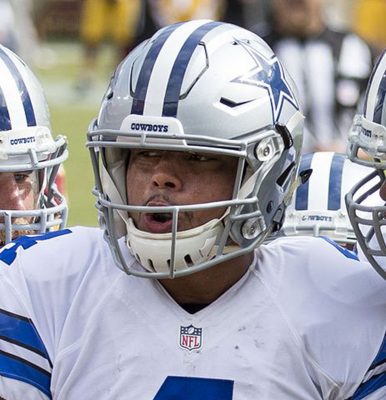 Quarterback controversies are one of the most debated and divisive topics in all of sports. From a battle between two franchise quarterbacks in Drew Bledsoe and Tom Brady to a competition between busts Alex Smith and Colin Kaepernick, quarterback controversies have given football fans everywhere fodder for their next great debate for decades. With this new NFL season, a new quarterback controversy has sprung up — this time in the NFC East with the Dallas Cowboys.
After Tony Romo went down in the preseason with a back injury, rookie quarterback Dak Prescott was thrust into action just a year removed from his college days at Mississippi State. Since beginning his time as a starter for America's Team, the Bulldogs' former gunslinger has gone 107 for 155 with 1,239 yards and four touchdowns. Even more impressive, the rookie has produced these offensive numbers with no interceptions to his name.
His best effort came three weeks ago against the lowly Chicago Bears. In that contest, Prescott completed 19 passes for 248 yards — including a 17-yard score to Dez Bryant in the fourth quarter. Under Prescott's leadership, the Cowboys have gone to 4-1 and currently sit atop the NFC East.
However, Tony Romo has been the heart and soul of the Cowboys since he took over under center in 2006. During his 10 years in the league, Romo has compiled 34,154 total passing yards while throwing 247 touchdowns. And while Romo is currently in his mid-30s, the former Eastern Illinois product is just two years removed from his best season in the NFL.
With a strong offensive line protecting him, Romo captained the Cowboys to a 12-4 record, an NFC East title, and one controversial call away from the NFC Championship Game. In that historic season for Romo, he threw for 34 touchdowns — the second most in his career — and had league-best numbers in both passer (113.2) and quarterback (83.62) rating.
But, the truth of the matter is, Romo has atrocious durability.
In his 10-year career, the QB has started every game of the season just four times — the last time in 2012. Fracturing his clavicle last season and going down in the 2016 preseason, Romo hasn't played meaningful football in more than a year.
Dallas now faces the choice of staying loyal to a QB who is dangerous when healthy, or going with a young stud who has proven his worth with wins over the playoff-caliber Cincinnati Bengals and last year's division winner, the Washington Redskins.
The Cowboys are a team that features a top-10 wide receiver in Dez Bryant, and a rookie running back in Ezekiel Elliott that looks to be cementing his place among a long lineage of stellar Dallas backs.
Bryant — who can only be rivaled by the likes of Antonio Brown, Julio Jones and maybe Odell Beckham Jr. — has spent the entirety of his career forging a touchdown-plentiful relationship with Romo.
By throwing a new QB into the mix with Bryant, you could risk wasting away some of Bryant's time as a premier receiver by forcing him to adjust to Prescott. The Oklahoma State alum has just one score in four weeks with Prescott, and is only two years removed from hauling in a league-high 16 TDs.
However, the emergence of Elliott strengthens Prescott's case. With defenses zeroing in on Elliott, more receivers will open up as a result of a stacked box and a secondary focused on stifling Bryant. Prescott, who ran for 41 touchdowns during his Bulldogs career, gives Dallas a more versatile offense.
Already two-dimensional with elite receiving and rushing, a mobile quarterback provides a triple-option threat that can make Dallas' offense one of the most lethal in the NFL.
Jerry Jones has already come out publicly and stated that Romo should be the starter; however, with Jason Garrett making the personnel calls, the Cowboys should provide the rest of the league with plenty of fodder for future QB debates.
P.S. Go with the promising rookie … it worked for the Patriots.