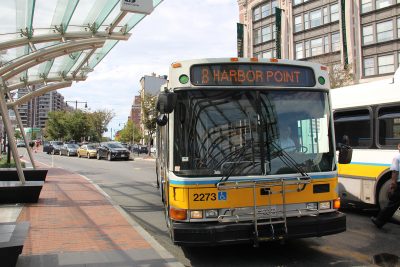 The Massachusetts Bay Transportation Authority Fiscal and Management Control Board voted on Friday to approve a two-year $7.7 million contract with Brink's Incorporated, which will handle the MBTA's cash collection operations, according to Massachusetts Department of Transportation spokesperson Jason Johnson.
Brink's will be responsible for MBTA's cash machineries as well as processing, depositing and collecting the machines' cash and coins, Johnson wrote in an email.
The privatization will not result in job losses, Johnson wrote, as workers at the MBTA's money room in Charlestown will be offered other positions, such as bus operators, within the MBTA. The MBTA is considering privatizing the bus system, The Daily Free Press reported on Sept. 11.
"As part of the transition of its cash operations to Brink's, the MBTA is offering all employees who worked in the Charlestown money room the opportunity to return to previous positions within the Authority," Johnson wrote.
The contract is expected to save the MBTA at least $8 million a year, avoiding the previously planned $1 million upgrade of the Charlestown money room, Johnson wrote.
"In recent years, the state auditor has found the money room was unable to account for $100 million in public dollars," Johnson wrote.
Johnson wrote that they FCMB's approval was the first occasion in 16 months when it used the three-year waiver of public sector services' privatization regulations granted by the Massachusetts Legislature.
"Brink's will be paid $3,618,845 for the first year and $3,648,793 for year two," he wrote. "At its discretion, the MBTA can exercise options for three additional one-year contracts."
James O'Brien, president of the Boston Carmen's Union Local 589, said the MBTA has not been transparent in the privatization process, as the money room's audit involved Shellie Crandall, a former executive vice president at Brink's.
"We've requested the audits every quarter, we've requested the backup financial information, we dispute the number of employees in there," O'Brien said. "It's a conflict of interest to me a lot."
O'Brien said privatizations of various operations within the MBTA causes job insecurity for workers and inconvenience, such as repairing privately operated Green Line trolleys.
"They're making profit off of taxpayers of Massachusetts," O'Brien said. "And they're going to go back … and say that we can't live out to our contracts."
FCMB Chair Joseph Aiello said in an Friday press release the privatization's approval is critical to improving MBTA operations.
"Today's vote was an important step in the FMCB's mission to improve efficiency and accountability for our customers and taxpayers," Aiello said in the release.
Daniel Aldrich, a political science professor at Northeastern University, wrote in an email that policymakers need to consider the maintaining of service levels and reducing of expenditures when privatizing an operation.
"While any sort of privatization may sound like a major break from regular procedure, the commuter rail services used by many Bostonians are already run by private firms rather than directly by the MBTA itself," Aldrich wrote. "As a whole, public organizations across the U.S. have moved away from public-private partnerships because many of them were cheaper but resulted in lower quality services."
Several Boston residents expressed mixed views over the privatization and called for more efficiency in the MBTA's operations.
Esther Destin, 29, of Roxbury, said privatization can be beneficial if it boosts the MBTA's financial accountability.
"[The MBTA is] terrible, never accurate, never informing," she said. "At least we can know where the budgeting is going. [Privatization] can be a good thing. It'll put some order."
Maria Rigaud, 59 of Fenway, said cash collection should remain internally handled.
"Sometimes they're late, especially in cold weather; in the summertime, the AC is too strong," she said. "They should stay public."
Ashley Weaver, 22, of Allston, said the result of privatization is dependent on the management's performance.
"I lived in New York awhile, so I was used to that subway system; they all have their quirks," she said. "Generally speaking, I personally don't think privatization is a good thing, but it really depends."