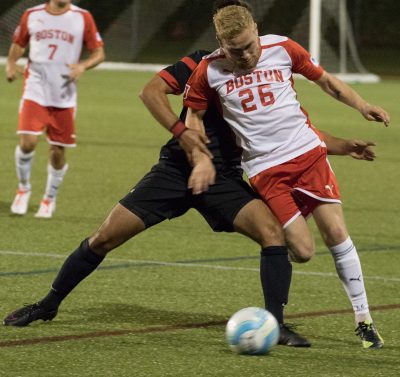 After grinding out a 1-0 victory over Lafayette College on Saturday, the Boston University men's soccer team will look to get back to .500 when it squares off against Dartmouth College at Nickerson Field Tuesday night.
The Terriers (4-5-2, 1-2-2 Patriot League) snapped a five-match winless streak on Saturday thanks to a heroic performance from senior goalkeeper Matt Gilbert.
The Madison, New Jersey, native reminded everyone why he's the reigning Patriot League Goalkeeper of the Year, as he made nine saves on the day, including one off a penalty kick.
Gilbert has been tough in net all year, and although BU went through that winless dry spell, Gilbert's play never wavered. One could even argue that the Terriers may have fared worse in that five-game stretch had Gilbert not made some big-time saves to keep his team in those games.
"He's struggled a little bit this year because we're struggling in front of him," said BU head coach Neil Roberts. "We're still trying to find our way. [Saturday's shutout] was good for him, he made two big saves for us, which is what we need. When he makes big saves and doesn't make mistakes, we win games."
For all Gilbert has done, he has been put in some difficult situations due to inconsistent play from his teammates, particularly the midfielders. This has often times left Gilbert and the defenders at a disadvantage.
While the Terriers' midfield was much improved against the Leopards (6-7-1, 2-3 Patriot League), they will be without the team's star junior midfielder Anthony Viteri, who left Saturday's game after a head-to-head collision.
The already-wavering midfield will be under even more pressure sans Viteri, but Roberts said others need to step up.
"[Sophomore midfielder] Magnus [Benediktsson] is going to have to do a good job and then we'll get some young kids to come in, and everyone is going to have to pick it up," Roberts said.
Viteri's absence will not only impact the midfield, but it will also leave a hole in BU's offense.
The Flushing Meadows, New York native is tied with senior forward Felix De Bona for most points on the team with 12, and is second behind De Bona in goals with five.
Luckily, the Terriers attack is much better equipped to handle the loss of Viteri than their midfield is.
De Bona has already picked up some of the slack, as the Somerville native scored the deciding goal in Saturday's 1-0 victory to make it six on the season and three in his last two contests.
"His work rate has picked up, and I think we're getting him services in some dangerous area," Roberts said. "Goal scorers can only do so much if they don't get services. If we get Felix in good position, he's going to score goals."
The veteran De Bona is complemented by freshman forward Matt McDonnell, who has been the Terriers' best offensive weapon outside of the dynamic upperclassmen duo of De Bona and Viteri.
The rookie has three goals and six points on the season, and he always seems to find a way to get near the net.
The Terriers will need to be firing on all cylinders if they hope to triumph over a well-coached Big Green (4-2-5) squad. They are tied atop the Ivy League standings alongside Columbia University and Harvard University, and are in the midst of a three-match winning streak.
When clicking, Dartmouth is a difficult team to defend because it has many different players who can contribute on offense.
Leading the pack are midfielders Noah Paravicini and Matt Danilack, who lead the team in goals and assists, respectively.
Including Paravicini and Danilack, six other Big Green players have registered three or more points this season, so the Terriers must be careful not to put too much attention on any one player.
"We've got to be good defensively for sure. They've got a lot of athleticism," Roberts said. "If you give them space, they have guys that will score goals. We have to be solid defensively, not just individually but collectively. We can't let them run, we can't let it be an up and down game because they're more athletic than we are."
Roberts will look to give bench players the opportunity to show what they can do in BU's final non-conference matchup of the season. He hopes that getting playing time will give younger players the confidence they need to contribute down the Patriot League homestretch.
"We'll get the opportunity to look at a lot of things," Roberts said. "Guys will get opportunities that haven't played a lot lately, so it will be very good in that way. We're looking for guys that will help us defensively, since it's been our weak spot."