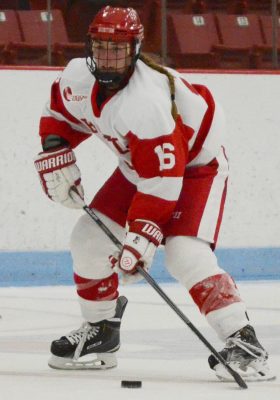 The first of four rivalry games will begin Tuesday for the Boston University women's hockey team when it travels to take on Northeastern University.
Last year, the Terriers (3-1-1, 2-1-0 Hockey East) went 2-3 against the Huskies (3-2-1), including a loss in the semifinals of the Beanpot Tournament.
Regardless of its record, Northeastern has always been a tough matchup for BU, and head coach Brian Durocher expects it to be no different when the team laces up the skates on Tuesday night at Matthews Arena.
The biggest threat that the Terriers will face against Northeastern is between the pipes. Sophomore goaltender Brittany Bugalksi has played all but one game this year for the Huskies, and has been in net for all of their wins.
Despite being an underclassman, the Boynton Beach, Florida native wields a 1.58 goals against average and a .938 save percentage.
Durocher knows that Bugalksi is a strong player, and was quick to admit that she will definitely make things harder on the BU offense.
"When you're facing a good goalie you can't get too picky with your shot selection," Durocher said. "You got to have screens, tips, deflections. The more a good goalies see the puck all night, the harder it gets."
While the Huskies have an everyday goaltender of their own, BU is still employing a two-goalie system with junior Erin O'Neil and senior Victoria Hanson. O'Neil's 1.92 goals against average may be superior to Hanson's 2.35, but their save percentage is nearly identical with O'Neil coming in at 0.926 percent and Hanson at 0.929.
Durocher noted that despite his intention of having a top goaltender, he will continue to rotate the two, with O'Neil getting the nod at Northeastern.
"I was asking for one of the them to step forward but the good thing is they're both stepping up," Durocher said. 
Durocher, now in his 12th season at the helm, admitted that though both have been playing well, neither has distinguished herself as a top goalie yet. 
On the offensive end, senior forward Samantha Sutherland and sophomore forward Sammy Davis have become leaders for BU.
Sutherland has seven goals thus far, while Davis has dished out a team-high eight assists. The Terriers' league-leading offense, which averages 4.40 goals per contest, with face a difficult test in Bugalski.
While Bugalski will look to shut down the BU offensive attack, her teammates will need to account for the loss of its top offensive player from a season ago, Kendall Coyne.
Leading the Huskies with an impressive 50 goals during the 2015-16 campaign, Coyne also received the Patty Kazmaier Memorial Award, which is given to the top NCAA Division I women's ice hockey player. The 5-foot-2 forward was in a league of her own, and without her, Northeastern might still be rebuilding offensively.
According to Durocher, the biggest challenge of the game will be defending the Huskies' size. Though Northeastern may not be more physically imposing than the Terriers, their aggression adds to their imposing nature. Durocher feels that his team needs to bring a high level of "compete" on Tuesday in order to come away with the win.
"I don't know if I'd say it's a weakness, but something we can be erratic with is our sheer compete," he said. "By compete I mean our handling of the puck in the perimeter and traffic areas."
Following a hard-fought tie and a 7-2 victory over Pennsylvania State University this past weekend, the Terriers know what it takes to beat a strong team. 
"Hopefully the kids have a picture [of what a win looks like] in front of them," Durocher said. "Hopefully everyone brings their A-game Tuesday."