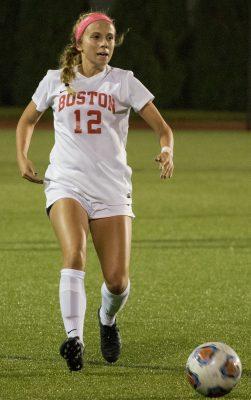 The Boston University women's soccer team looks to extend its unbeaten streak to seven games when it travels to Worcester Wednesday night to take on the College of the Holy Cross.
The Terriers (5-10-1, 5-1 Patriot League) have dominated in Patriot League play after starting the year 0-10. Winners of their last five in-conference contests, they last lost in the Patriot League opener to first-place Bucknell University on Sept. 18.
BU hopes to continue its strong league play against the Crusaders (2-10-2, 1-3-2 Patriot League) in the first Turnpike Trophy contest of the year.
After starting the season 1-8, Holy Cross has performed better over the past two weeks, going 1-2-2 in its last five contests.
The Terriers have been clicking on all cylinders as of late, but BU head coach Nancy Feldman wants her team to take the next step with the conference tournament on the horizon.
"I want us to improve in the final third of the field," Feldman said. "Many parts of our team have been coming together, but we can be more precise in the final third. We have to add more pressure in the penalty box. If we can pay more attention to our attack in the final third and score more in there, we'll be in good shape."
The Crusaders are near the bottom of the conference in defense, as they're ninth in goals against average with 2.29 allowed per game.
BU will look to use Wednesday night as another opportunity to pressure the opposing side's defense, as the team has scored at least two goals in each of its last three games.
While this matchup may seem like a mismatch on paper, Feldman wants her team to focus on themselves instead of the opponent's weaknesses.
"We aren't looking to exploit Holy Cross' defense," Feldman said. "We have to keep doing what we are doing by attacking all over the field from different positions and players."
The Terriers have been using players from all positions in their recent offensive attacks.
In Saturday's 2-1 victory over Lehigh University, senior defender Rachel Bloznalis and sophomore forward McKenna Doyle each tallied goals. Last Tuesday in a 2-2 draw at Harvard University, freshman forward Kelly Park and freshman defender Shannon Keefe each scored their first collegiate goals.
"We have to create our attack starting with our defense," Feldman said. "If we can apply pressure to Holy Cross, we'll be in a good position to attack from all positions. Once we apply the pressure, we'll be able to spread out and create opportunities in the final third."
On the other side of the ball, BU looks to regain its form as a lockdown defense. The Terriers allowed three combined goals against the Crimson (7-3-3) and Mountain Hawks (8-4-2, 2-3-1 Patriot League) after shutting out their previous four opponents.
Along with a struggling defense, the Crusaders' offense is not overpowering. They rank seventh in the Patriot League in goals per game (1.07), and eighth in shots (134).
One of the keys to victory for Feldman's side will be stopping sophomore Andj Seslija. The Sarajevo, Bosnia and Herzegovina native leads Holy Cross with 13 points and six goals on the year.
"Seslija is a very talented player," Feldman said. "We have to know where she is at all times because she can score from anywhere — she just scored a goal off a corner against Brown University two games back."
Feldman noted that it won't take just one player to shut down Seslija, but if the team is successful in doing this, it should go a long way toward securing the team's sixth conference victory.
"If she gets the ball, we have to be prepared," Feldman said of Seslija. "Someone has to be on her immediately. It will be a team effort to neutralize her, but our defenders must be ready to step up and check her individually as well."