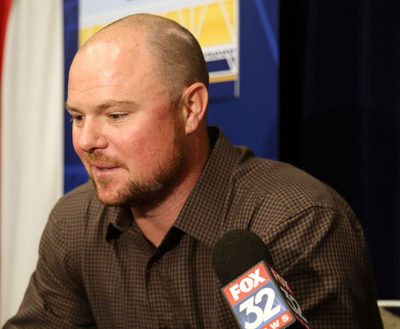 With the Boston Red Sox failing to move on in the 2016 MLB postseason, Sox fans all across New England now have a quandary on their hands — do they root for Terry Francona and the Cleveland Indians or Theo Epstein and the Chicago Cubs? Well, let me make it simple for you Red Sox Nation: root for the Cubbies.
Boston is a city deeply rooted in its love for all things sports, and the Red Sox are no exception to that love. Much like Chicago, Boston loves its baseball team — even during times of great distress. For 86 years, Red Sox fans sat idly by and watched as their beloved team scratched and clawed their way to a World Series four times, only to lose in heartbreaking fashion each time. The Cubs and their loyal fans have been through even worse.
It has been 108 years since the Cubs last won the title.
That's right, 1908 was the last time the Cubbies hoisted the trophy after defeating the Detroit Tigers four games to one. Just to shed light on how long it's truly been, the Ottoman Empire was still in existence the last time the Cubs won the World Series. World War I, the war that revolutionized modern military combat, was still six years away. Vin Scully, the famous Dodgers broadcaster who just retired after 67 years in the booth, wouldn't be born for 19 years after the Cubs last won the World Series.
Out of anyone, Red Sox fans understand the feeling of supporting loveable losers. After agonizingly watch your team fail to bring home the title for 86 years, how can you not support the Cubs and their passionate fans?
A big reason many Red Sox fans have begun pulling for the Cleveland Indians is because of former Sox manager Terry Francona. After Tito was promptly fired from the Sox staff after the chicken and beer fiasco of 2011, he joined ESPN for a year before getting back in the coaching industry with the Indians. Now, I understand the lure to root for Tito — he was unnecessarily fired and was a phenomenal manager during his time in Beantown. Without him the Sox probably wouldn't have won two of their World Series titles. But you know whom else the Sox owe their rings to? Theo Epstein.
When he first came to Boston, Epstein was the youngest general manager in basebal history and began crafting a Red Sox team based off a then-unknown practice called sabermetrics. Two World Series rings later, Epstein defected for Chicago looking to end the curse of another historic franchise. During his time in Boston, Epstein not only helped organize two championship teams, but he also put together a top-tier farm system that is still paying dividends for the Sox — i.e. Mookie Betts and Xander Bogaerts.
And while the Indians sport one of the best relievers in baseball, former Sox lefty Andrew Miller, the Cubs are now home to one of the Red Sox's most beloved homegrown arms: Jon Lester. Lester began his career in Boston in 2006 and flourished at Fenway Park. Tossing a no-hitter, beating cancer, clinching the 2007 World Series, and headlining the 2013 championship staff, Lester was the epitome of what every Red Sox fan wanted from an ace. He is a figure still beloved by Red Sox Nation, and should be a major reason why Bostonians root for their National League cousins this October.
The Cubs are the natural choice for Red Sox fans and baseball fans all across the country to root for this postseason. And while it has been more than 20 years since any remaining team has captured the title, Chicago's drought has gone on long enough. And with the game's best young stars in Kris Bryant and Anthony Rizzo at the helm, the support of stud aces Lester, Kyle Hendricks and Jake Arrieta, and a shut down closer in Aroldis Chapman, anything is possible for this star-studded team in northern Chicago.