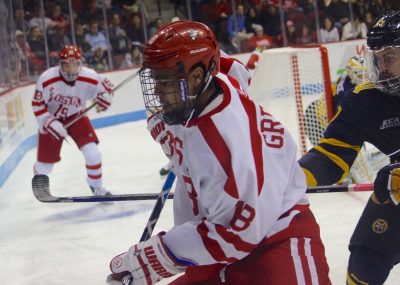 Looking at the roster of the No. 8 Boston University men's hockey team, it's easy to miss sophomore forward Jordan Greenway amidst all the stud NHL prospects.
When watching a game at Agganis Arena, however, the 6-foot-5, 230 pound Greenway can't help but stand out.
At least that was the case on Saturday, when Greenway helped do it all for the Terriers (3-3) in their 3-0 win over No. 4 Quinnipiac University. The Canton, New York native put BU on the board first with his third goal of the season coming in the first period. He added an assist in the final minute of the game to put away the Bobcats (3-2-1) for good.
After tallying three points in the Terriers' 7-0 victory over Sacred Heart University on Friday, Greenway again provided the spark on offense. With 13:49 remaining in the first period, Greenway rushed down the ice to be in the perfect spot for a pass from classmate Jakob Forsbacka Karlsson. Greenway got the puck in the right slot and beat Quinnipiac goalie Andrew Shortridge on a backdoor shot.
Greenway, who scored just five goals in his freshman campaign, came into this season with more of a goal-scorer mindset after lighting the lamp three times in the World Junior Camp this summer. He's now tied with freshman forward Clayton Keller for the team lead in goals.
"I had a really good summer, I was here [in Boston] for most of it, just in the gym a lot," Greenway said. "Playing for Team USA for a short period of time definitely was a big confidence boost. I was scoring a lot there, which kind of helps me have a scoring mentality coming into this year. That definitely helped me focus on shooting the puck and I worked on that all summer as well."
BU head coach David Quinn agrees that his performance for Team USA this summer was crucial for Greenway, who was drafted by the Minnesota Wild in 2015.
"As good a year as he had [last season], he had five goals," Quinn said. "A guy that big and strong and has the talent he has, that ain't cutting it. He was determined to be more of a goal-scorer, I think it started happening over the summer when he was at the World Junior Camp … and he's picked up where he's left off. He's a dominate player at this level, and he should be a dominant player in the score sheet."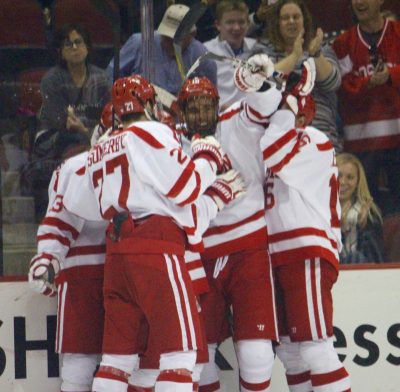 Not only was Greenway efficient once again on the offensive end, but he also excelled on the penalty kill. BU spent 32 minutes in the penalty box on Saturday, meaning the penalty kill unit was needed often.
Time and time again, Greenway answered the bell and made some key blocks to help the Terriers go 12-for-12 on the penalty kill and achieve back-to-back shutouts for the first time since 2013. Greenway acknowledged there are a lot more penalties being called this season, and on Saturday, the team as a whole was ready for it.
"A lot of penalties are called just because we're not moving our feet or whatever the case is," Greenway said. "We just kind of focus on keeping our feet moving, trying to not get our sticks in their body or their hands. We've been working a lot in practice on the penalty kill and we've had a lot of success. We had a ton of penalties tonight, all the penalty kills did great, and [freshman goaltender Jake] Oettinger really helped us on the back as well. It was a good night in that regard."
With NCAA referees blowing the whistle so much this season, the always-aggressive Greenway has had to adapt his game. He was called for no penalties tonight, while still bringing that rough style of play below the dots and along the wall.
"That's like my whole focus, I think that's where I have the most success," Greenway said. "Just being a big guy like me, I really have to dominate in those areas, create space for my linemates, get the puck to the net wherever and however I have to. Going into every game, that's like my main focus, when I do dominate those areas that's when I play my best."