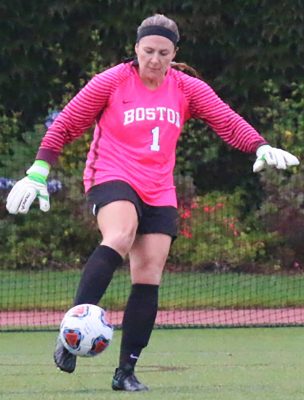 The Boston University women's soccer team's goalkeepers performed well again Saturday afternoon against the United States Military Academy.
The Terriers (7-10-1, 7-1-0 Patriot League) defeated Army (4-10-2, 2-4-2 Patriot League) 3-1 behind a goal from senior forward Erica Kosienski and two from freshman forward Kelly Park.
Although BU dominated possession, senior goalkeeper Bridget Conway and junior goalkeeper Hannah Ciolek were ready when called upon.
BU head coach Nancy Feldman said she is appreciative of her goalkeepers' efforts; she said the team watched a highlight video of their big saves during Tuesday's practice.
"I think we've taken them for granted," Feldman said. "We were focusing early in the season on not scoring goals, but now we're in a position where we are stingy defensively."
Prior to the game against the Black Knights, the two goalkeepers were crucial throughout the team's seven-game unbeaten streak. Both Terriers split time in net each game, with Conway starting and Ciolek taking over at halftime.
Throughout those seven games, they shut out four of the opponents — American University, Colgate University, Loyola University Maryland and Lafayette College, and allowed more than one goal just once — a 2-2 tie at Harvard University on Oct. 11.
During the unbeaten streak, which was extended to eight games Saturday, Conway and Ciolek have allowed just four goals and made 27 saves. Due to a solid backline and midfield in front of them, they have seen a limited number of shots on goal.
As a result, most of the attention has gone to goal-scorers and midfielders. However, the keepers have been rock-solid, making big saves when their opponents have broken through the defense.
"Neither one of them has established themselves as the number one, but both of them have done equal," Feldman said. "Both of them have come up with saves in big moments, and they have been solid in stopping the shots they should stop."
The trend continued in the 3-1 win over Army. The goalkeepers didn't fill up the stat sheet, but they kept their team in the game. While BU tried to build a lead, the keepers prevented Army from souring BU's offensive efforts.
The Terriers took 12 shots in the first half, but couldn't score. Conway, a Norwell native, was crucial in ensuring her team didn't fall in a deficit despite its offensive efforts.
In the second minute, the Black Knights applied early pressure and drew a corner. Midfielder Clare Shea, who won Patriot League Midfielder of the Week last week, attempted to score on a header, but Conway was there for the stop.
In the second half, the Terriers offense broke through when Ciolek took over in net. Feldman said she has stuck with the two-goalkeeper strategy because both of them have earned it in practice.
"When you're making personnel decisions, you let the players tell you what you should do," Feldman said. "[Conway and Ciolek] are telling me both of them deserve to play."
After blanking the Black Knights for the majority of the game, Ciolek assured her team's lead. Freshman goalkeeper Emma Heil took over for Ciolek in the 75th minute with the Terriers up 3-0.
Army midfielder Samantha Sullenger scored her team's lone goal in the 84th minute during Heil's collegiate debut.
While most of the attention will go to Kosienski and Park, Conway and Ciolek deserve recognition. As the Terriers move forward, they will be tough to beat if their two main keepers continue to shut down opponents.
"We're going to need them to make a big save to tip the game or win the game," Feldman said. "Even in games we've dominated and they get one chance, that's the one you have to stop. I'm really pleased with both of them."