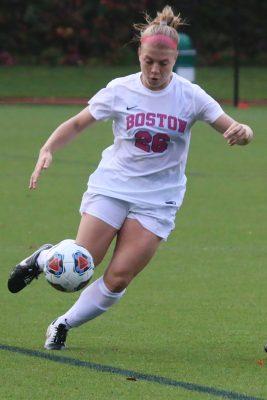 The Boston University women's soccer team defeated the United States Military Academy by a score of 3-1 at a rainy Nickerson Field Saturday afternoon.
With the victory, the Terriers (7-10-1, 7-1-0 Patriot League) extended their winning streak in conference matches to seven games, keeping pace with first-place Bucknell University, which has only lost one Patriot League contest as well.
Meanwhile, Army (4-10-2, 2-4-2 Patriot League) remains alive in the hunt for a final spot in the Patriot League Tournament.
With the win, the Terriers earned a bye in the quarterfinal round of postseason play, and a berth in the semifinal, which will take place on Nov. 4.
This also marks the fifth straight game in which BU has recorded at least two goals.
BU dominated the first half, but was unable to record a goal on 12 shots. BU head coach Nancy Feldman warned her team that they couldn't keep taking these opportunities for granted, and they needed to capitalize.
"We needed to come out and continue what we started in the first half," Feldman said. "We needed to keep our foot on the gas."
Feldman also noticed the quick pace of play, saying she believes the Terriers made the most amount of passes with under three touches that they have had all season.
"When we start doing that, the ball is traveling faster than people can defend," Feldman said. "It really starts to look like we have two extra people out there."
Senior forward Erica Kosienski got the scoring started in the 51st minute, assisted by sophomore defender Chelsea Churchill. This marked Kosienski's first goal of the year.
The true offensive firepower came from freshman forward Kelly Park. The San Jose, California native recorded her first goal in the 61st minute. A mere two minutes later, Kelly recorded her second goal of the game, upping her season total to three and extending BU's lead.
Feldman noted Park's work ethic coming into her freshman season at BU after she tore her ACL twice during her high school career.
"She came in ready to go," Feldman said. "She has a really healthy confidence in her ability."
The Army offense did not quit, though, as in the 84th minute, midfielder Samantha Sullenger got Army on the board. They would go on to lose 3-1 after failing to register another shot.
The Terriers outshot Army 28-5 on the afternoon, controlling the place of play from the minute the game began.
In net, Feldman abided by her usual strategy, having senior goalkeeper Bridget Conway in goal during the first half. Conway made two saves, and allowed zero goals. In the second half, junior Hannah Ciolek played the first 30 minutes, making one save.
After securing a 3-0 lead, Feldman turned to freshman goalkeeper Emma Heil to make her collegiate debut. Heil faced two shots and allowed one goal.
"Heil works really hard," Feldman noted. "She has a bright future here."
Feldman also lauded the play of her two main goalies thus far, noting how during Tuesday's practice, the players were shown a highlight reel of their goalies' play.
"I think we take them for granted a little bit," Feldman said. "Both Bridget and Hannah have grown into core contributors this season."
With a strong goalkeeping corps leading the way, the Terriers finish out the regular season next Saturday when they take on the United States Naval Academy.