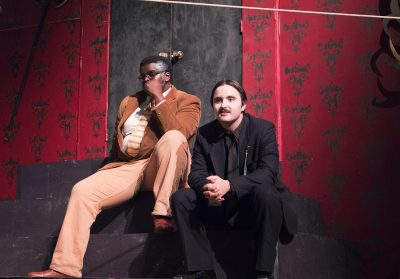 Call them creepy, kooky, mysterious or spooky, but everyone can agree that "The Addams Family" is a peculiar piece of pop culture. After the famous TV series from the 1960s, two feature films and all the products that tied in with them, the Addams clan took Broadway — and it is this rather innovative take on America's strangest family that directors Lauren Casabona and Paulina Ke decided to undertake for this year's Stage Troupe Family and Friends Weekend Musical.
Plot-wise, "The Addams Family" can be described as a coming-of-age tale, with the Addams' daughter Wednesday (Rachel Smith) being the one growing up. The dreary daughter intends to bring her boyfriend Lucas (Nathan Wilgeroth) and his parents, the seemingly normal Mal (Esiri Madagwa Jr.) and Alice (Ellie Lavelle) to dinner — much to the despair of her own parents, Gomez (Evan Creedon) and Morticia (Danielle Diamond), who are absolutely anything but normal.
Add Wednesday's unusual brother Pugsley (Cassidy Donohue), her potion-making grandmother (Tori Jones), soul-summoning scientist Uncle Fester (Andy Moeller), Frankenstein-like butler Lurch (Dylan Herina) and even a few spectral Addams ancestors to the mix, and this Addams Family dinner becomes more dangerous than any witches' brew.
The musical's opening act, "When You're an Addams," perfectly summarizes what the musical is all about. Its typical Broadway-like excitement mixes well with the general creepiness of "The Addams Family," all wrapped in a big mambo-like number where the family celebrates their non-conformity while literally dancing on their ancestors' graves (Gomez tells the audience this is how they summon their ancestors).
"When You're an Addams" also showcases another major highlight of the show — the choreography, directed by Daniella Forero, which looked practically professional. The choreography shows best with the show's largest numbers, especially when the ancestors are involved.
The remainder of the first act is just as energetic as its opening number. There's a show-stopping performance for almost every major character: "Trapped" for Gomez, "Pulled" for Wednesday, "Secrets" for Morticia and even one for Pugsley in "What If." Each number is a great show of character and incredible musical performance from each actor.
Much like in "When You're an Addams," the songs where the whole cast is involved is when the first act really shines, with "One Normal Night" and "Full Disclosure" being especially notable.
The second act seems to hit a bit of a lull — sure, there's Morticia's second solo, "Just Around the Corner," which is another display of amazing acting and singing on Diamond's part, as well as choreography. Yet the song immediately following it, Fester's "The Moon and Me," seems to be disjointed from the pace of the musical and the plot in general.
That's not to say that Moeller as Fester doesn't give it his all — in fact, considering Fester's place in the plot as more of a mechanism to move the story forward, it is refreshing to give Fester a chance in the spotlight, made only better by Moeller's impressive singing talent.
"Tango de Amor," the tango scene typical of Gomez and Morticia, is even more proof of the talents of the cast, band and choreographer: both Creedon and Diamond have great onstage chemistry, and the tango itself is great to watch. "Crazier Than You," "Live Before We Die" and "Move Toward the Darkness" round out Act 2's great musical numbers, making it impossible to leave without one of the tunes stuck in your head.
Overall, "The Addams Family" is just the right mix of "Addams" creepiness and Broadway lightheartedness, making it fun for all who watch it.