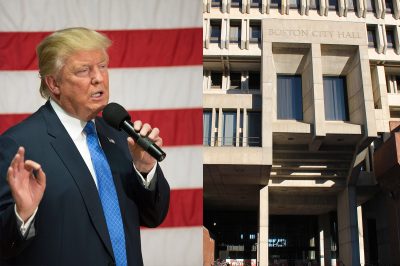 Approximately 20 people gathered at City Hall Plaza Saturday afternoon, holding signs that read "#HerLiesMatter," "Trump-Pence — Make America Great Again" and "Protect the Constitution — Vote Trump."
Despite rushing winds and intensifying rain, the supporters stood still and listened for two hours as orators spoke under a blue tarpaulin near the plaza's flag poles, to show support for Republican presidential candidate Donald Trump.
John Paul, who organized the rally with fellow Trump supporter Mark Inman, said in his opening remarks that he embraces conservatism and disapproves of Democratic presidential candidate Hillary Clinton and the current establishment.
"Donald Trump is the only one that can stop the corruption," Paul said. "We're here because her lies matter."
Rally attendees then said the pledge of allegiance, and Inman sung the U.S. national anthem.
Former Boston Red Sox pitcher Curt Schilling said a Trump administration would bring "fundamental change" to the way the government acts, works and interacts with the people.
"We are left with two choices," Schilling said during the rally. "One is to get four more years of what we had the last eight [years], and even worse than those last eight, and the other one is what everybody's wanted, which is change."
The Clinton campaign and the Barack Obama administration, Schilling said, are embedded with vested interests and employ deceitful ways in garnering support, such as by influencing media companies.
"We're not stupid," Schilling said. "The media is all about making sure this man does not get elected … This is the most corrupt woman, the most corrupt family in the history of politics, and we deserve better as a nation."
Dianna Ploss, another speaker at the rally, works for the Trump campaign in Massachusetts. During the rally she recounted "awakenings" that brought her from being a Democrat to becoming Republican, and eventually a Trump campaigner.
"It's cold, it's raw, it's raining," Ploss said, opening her remarks. "But we need the rain, and we need Donald Trump."
Ploss said the factors that led to the Boston Marathon bombings and the anti-police rhetoric that followed afterward led her to change her political affiliation.
"I was really bothered by that because that's not how I grew up; we were taught to respect the police, we were taught to respect the flag, which I still do," Ploss, who was wearing a white "Make America Great Again" hat, said. "That woke me up from my slumber."
The terrorist attacks in Europe, Ploss said, led her to stand behind Trump.
"He stands for what I stand for; he stands for America," Ploss said. "I have to get behind this man because he is behind our country."
Attendees said the speakers' words echoed their thoughts, and that they will stand firm in their political choice, despite Massachusetts' reputation as a dominantly Democrat state.
Scott Hayes, 58, of Beverly, said Trump repeatedly gets negative coverage from news organizations, dubbing them "no better than the ruling class and these lying politicians."
"Trump keeps getting all this grief from the media and the politicians about the Khan family," he said. "From what I understand, they're part of a Muslim brotherhood, which has been a part of a terror organization for almost 70 years."
Douglas Grindle, 49, of Norfolk, said during the rally that Trump's plans in economic, immigration and foreign policies are "far superior" to Clinton's. Despite the ongoing political battle, however, Grindle said he respects differences in opinions.
"The rally is a terrific idea; people come together and see this election's really important," he said. "We all come together, and no matter whether more people agree with Hillary or Donald Trump in one place or depending on where you are, we're all Americans."
Gabrielle Lawrence, a freshman studying economics at Boston University, said she did not expect a big turnout at the rally due to Boston's Democratic leaning.
"We're in a public space right now, so you'd expect people who aren't Trump supporters or just nonconforming," she said. "You'd expect public disappointment, and you and it's cool to see people who just don't care."