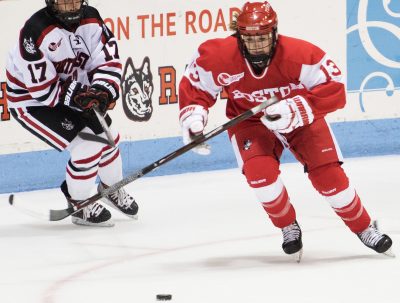 After a 6-2 loss at the hands of Northeastern University last Tuesday, the Boston University women's hockey team will have a chance to rewrite the script on Tuesday night at Walter Brown Arena.
Last week's BU (3-2-1, 2-2 Hockey East) loss was the first conference contest for the Huskies (5-2-1, 1-0 Hockey East), who currently rank third in Hockey East behind first-place Boston College and the second-place Terriers.
In that game, graduate student forward Mary Parker scored her 100th career point on a second-period goal. Freshman forward Natasza Tarnowski found the back of the net for the second time this season, which tied the game and gave freshman forward Deziray De Sousa her first collegiate point on an assist.
Both goals, however, would prove to not be enough, as Northeastern tallied three times after Tarnowski's goal and then twice more after Parker's.
"I'd give Northeastern a lot of credit for winning battles," BU head coach Brian Durocher said. "They were knocking pucks off of our sticks, and we weren't being strong on it. Some of the credit goes to them, and some of the credit goes to us for maybe not being strong enough on our sticks or competing. We had a hard time getting back in the game."
The BU offense clearly struggled against the Huskies, as evidenced by the two tallies, none of which were on the power play — despite seven opportunities.
"I think the biggest thing we've talked about this week is our kids not taking a look all the time to see what's going to be an option," Durocher said. "The minute you take a look, the other team can get in the shooting lane to be in a position to block a shot. If you trust your instincts on what to do next, we'll be a lot better off."
Northeastern, on the other hand, continued to capitalize throughout the night, as it was able to tally one power-play goal in the seven chances it received.
"We may mix it up a little bit tomorrow depending on how we play," Durocher said. "Our job is to keep playing well on the special teams and when you're killing penalties the goalies are part of the job. If they continue to play well in those situations, it helps you kill penalties."
While the Terriers head into Tuesday's home tilt following a week-long break, the Huskies are fresh off their third straight victory, which extended their unbeaten streak to six games. Northeastern faced Dartmouth College this past Friday night, recording three goals behind a shutout from goaltender Brittany Bugalski.
Bugalski was named this week's Hockey East Defensive Player of the Week for the second time in a row following her performances against BU and Dartmouth (0-2).
The Boynton Beach, Florida native ranks second in the conference in goals-against average and and ranks first in winning percentage. She has posted three shutouts in the last six games, resulting in a 0.82 GAA during those contests.
"If we're going to do something against [Bugalski], we've gotta make sure that we get screens, get tips, get deflections and get traffic in," Durocher said. "I told the kids that you want to shoot it off angle, you don't have to wait to have the perfect shot. Not every goal against her is going to be a pretty goal."
The Terriers hope to bounce back in Tuesday's rematch, and according to Durocher, the key is coming out strong in each period.
"Our level of engaging and compete is going to be the biggest thing."