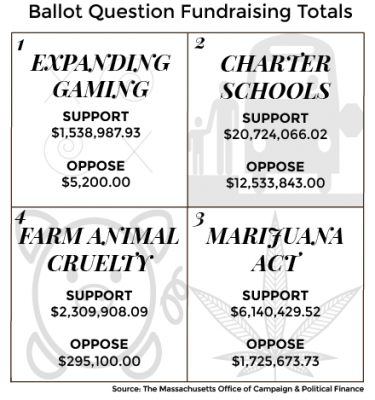 Four ballot questions will be presented to Massachusetts voters on Nov. 8, and a report updated last week by the Office of Campaign and Political Finance details the funding each ballot question group has received. Overall, the supporting groups have raised substantially more than the opposing groups, according to the report.
Approximately $30 million has been raised to support Massachusetts ballot questions groups and about $15 million for opposing groups, according to the report. The campaign to support a "yes" vote on Question 2 has reported to receive more monetary donations than all of the other ballot questions combined.
Question 1: Additions to gaming establishments
The Committee for Sustainable and Responsible Economic Development, which is against Question 1, received $5,200 this year, the report stated.
Of the funds raised, according to S.R.E.D. Chair Celeste Ribeiro Myers, $50 have been spent. Myers said the committee provides resources for people to gain background on the ballot question.
"We're primarily an educational committee, so you don't see tons of fundraising," Myers said. "This is not an 'up or down' question on casinos. Casinos are coming to the Commonwealth of Massachusetts."
The group in support of Question 1 has raised over $1.5 million, but was unavailable for comment at this time.
Question 2: Increase in charter school enrollment
Groups in support of Question 2 have raised a combined approximately $20 million since 2015, the report stated.
Eileen O'Connor, the spokesperson for Great Schools Massachusetts that funds the Yes on 2 campaign, said the group aims to provide more choices for public schools, as proposed in Question 2. The campaign has used various media — from television to printed materials — to advertise their message, O'Connor said.
"We also have a field operation," O'Connor said. "We're going out and talking to voters directly and we're knocking on doors."
O'Connor said of the $20 million raised, $17 million has been spent on campaign activities.
Chris Addis, the spokesperson for Save our Public Schools, which is against Question 2, said the organization is a grassroots campaign, and volunteers are campaigning by going face-to-face with those who would be affected by the passing of the ballot question.
"We're going up against a well-funded, dark-money-funded organization. Were just getting truth out face-to-face at the grassroots level. This is really about main street versus wall street here," Addis said. "We feel the best way to get the truth out is just to talk to the voters directly."
Save our Public Schools has raised over $12 million and has spent about $9 million, according to the OCPF report.
Question 3: Treatment of farm animals
Citizens for Farm Animal Protection, the group in support of Question 3, has garnered about $2.3 million — approximately $570,000 of which has been spent — since 2015, the report stated.
Kimberly Barzola, the community organizer for Citizens for Farm Animal Protection, wrote in an email that the campaign advocates for the elimination of caged-animal farming, as proposed in the ballot question, by reaching out individually to voters.
"Crowded, dirty factory farms provide the perfect breeding conditions for disease," Barzola wrote. "We're speaking one-on-one with tens of thousands of voters, and they've made it clear that animal welfare is of great importance to them."
Question 3 opponent, Citizens Against Food Tax Injustice, has raised about $295,000 and spent over $230,000. Spokesperson Diane Sullivan said even though her group is running on about 10 percent of her opponent's budget, they are still spreading the word.
"[We're] getting out to community events," she said. "There's been a lot of interest of course on the question so any pocket in the state where I'm invited to go talk about my opposition, I am there."
Question 4: Marijuana legalization
Safe Cannabis Massachusetts, one of the three groups that oppose Question 4, has garnered $300 this year, the report stated. Safe Cannabis Chair Daniel Delaney said $30 have been spent on campaign activities.
"[Marijuana legalization is] the wrong approach at the wrong time for Massachusetts," Delaney said. "The language in the ballot initiative is boiler plate language that's developed by the marijuana policy project in [the District of Columbia]."
The three groups opposing Question 4 have raised over $1.7 million combined.
According to the report, YES on 4, a group in support of marijuana legalization, has garnered around $6 million and spent about $4.8 million since 2015.
The funds raised have been used for campaign promotions, such as television ads, direct mail and bumper stickers, according to YES on 4 spokesperson Jim Borghesani.
"We want to end the failed system of prohibition in Massachusetts," Borghesani said. "We think there's an excellent level of awareness among Massachusetts voters. We think that voters are very fair and they're giving our proposal and close and serious look."
As Nov. 8 approaches, several Massachusetts voters said they are still not fully informed on the ballot questions they will vote on.
Katherine Harrington, 31, of Back Bay, said the Question 2 commercials she saw were not persuasive and did not leave a lasting impact.
"I may have to do a little reading and spend a few hours one night doing some research on these topics before I vote," she said. "[Commercials on Question 2 are] not all that effective, to be honest, and I barely watch TV."
Jennifer Chapman, 21 of Beacon Hill, said outreach through television commercials is not effective on younger people, as they do not regularly receive information through television.
"Maybe if it's a different demographic," she said. "Maybe adults that watch more TV but we don't have TV's or a lot of time, especially for college kids who would probably vote in favor of [Question 4], they're not going to see [the advertisements]."
Logan Nelson, 19, of Beacon Hill, said he only knew about the ballot questions when we went into the voting booth.
"I'm sure it's on TV everywhere, but I haven't really seen any billboards or ads or anything," he said. "Only because I voted already and had a look at it — I guess not beyond what I already know from my own research."