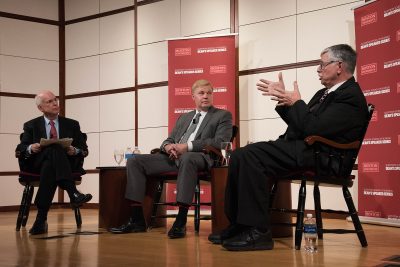 Questrom School of Business Dean Kenneth Freeman continued his Dean's Speaker Series Thursday night with Amtrak. More than 70 professionals and Boston University students came to hear the conversation about how to maintain a successful business.
Amtrak Former President and CEO Joe Boardman joined Barry Melnkovic, the company's EVP and chief human capital officer, labor relations, diversity and lean enterprise solutions, for the conversation.
Questrom regularly invites speakers to BU, so the community has an opportunity to learn about the world of business in various industries through a more casual, conversational style, Freeman wrote in an email prior to the event.
"We strive to have attendees gain exposure to leaders who are making an impact, diverse leaders from multiple industries, with a wide variety of career experiences and approaches to creating value in their enterprise," Freeman wrote.
Boardman and Melnkovic talked to BU community about how to reach out to customers and how to smooth the transition between CEOs. Both said they are hopeful about the future of the company and the new head.
"I do think that there's a concern inside of Amtrak whether the new CEO, whom I've known for many years, as to how and what direction he's going to go in and how he's going to move forward [during this transition]," Boardman said.
Melnkovic reflected on his success in the industry and named his father as one of the motivating factors behind his career.
"He's was a labor guy, a union guy, until the day he died," Melnkovic said. "I know he was always proud of his kid that was on the other side of the table in terms of the American dream, but I never forgot where I came from."
Toward the end of the discussion, Melnkovic and Boardman left some parting advice for students and future generations of business leaders.
"Go for it, do great things and have fun," Melnkovic said. "Have fun in every sense of the word you're laughing, and that's important."
Boardman insisted that people need to learn how to be leaders while retaining who they are in the process.
"Leadership is character," Boardman said. "Leadership, in many cases, is a learned trait. You have to learn how to be humble; you have to learn how to have humility."
After the discussion, several students said they not only learned more about the company, but also learned important life lessons from these two business leaders.
Andy Whitman, a sophomore in the College of Engineering, said he attended the speaker series because of his interest in the transportation industry and the company.
"It was very neat," Whitman said. "They definitely knew what they were talking about and it had a lot of insight, not just in the business aspect of things, but about the state of transportation."
Kejin Chen, a Questrom sophomore, said she liked to listen to Boardman and Melnkovic talk about the way their careers developed and how the company is evolving.
"I guess [the most interesting thing] was about the transition to the new CEO and how they are making that change and how people are trying to adapt to it," Chen said.
Mali Zhao, a Questrom junior, said it's unique how the speakers care for their workers, especially after the derailment that happened in Philadelphia last year.
"This is the first time [in the speaker series event] that they talked about human resources," Zhao said. "Before, they had more business [topics]."