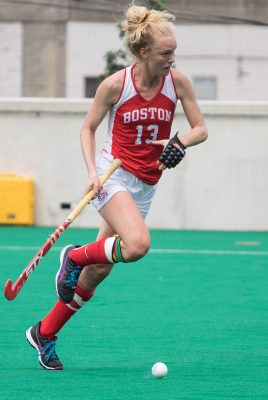 While the No. 14 Boston University field hockey team may not have received the result that it desired in Sunday's 2-1 loss against No. 3 Syracuse University, it continues to play a style that has shown good results.
The Terriers (11-5, 4-1 Patriot League) continued the uptempo mindset that piloted them to a 1-0 victory over No. 12 Boston College on Oct. 16, and on Sunday applied pressure that an Orange (13-2) side hasn't normally seen thus far.
"There was no quit to our team," BU head coach Sally Starr said.
The Terriers were not intimidated by Syracuse and its defense, which has the fifth-best goals-against average (1.16) in the nation
BU finished the contest with twice as many corner opportunities (6) as the Orange (3). Additionally, after faltering in a one-sided first half that saw them trail by a pair of goals, the Terriers ratcheted up the pressure in the second frame, garnering nine shots while controlling the pace of play for the remainder of the contest.
"We were really tight and tentative in that first half," Starr said. "I was not pleased and the team was not pleased with how we were performing. I felt like we were playing tennis with [Syracuse]. They would give us the ball, and we would give the ball back. In the second, we competed a lot better, played more intelligently, and just played good hockey against a really good team."
This theme of offensive aggressiveness was also witnessed in Friday's suspended contest against the College of the Holy Cross. The match concluded with the Terriers garnering a 3-1 win after play resumed on Tuesday afternoon following a suspension of the contest due to torrential downpours on Friday night.
BU attacked its local foes immediately from the outset of the contest, with sophomore forward Kara Enoch netting her third and fourth goals of the season in the victory.
Despite the fact that the Terriers rank 34th nationally in goals per game (2.56), their newfound offensive approach is a vast improvement from the stagnant attack that scored just three combined goals in the midst of a four-game losing streak three weeks ago.
Van der Laan driving BU offense
Midfielder Hester van der Laan has made the most of her final season as a Terrier, compiling an impressive 16 points on six goals and four assists thus far.
Her presence in the flow of the Terriers' offense has certainly has been felt as of late, as she energized a sluggish offense with the team's lone goal in their 2-1 loss to No. 1 Duke University on Oct. 2.
This preceded her sixth score this season against Holy Cross on Friday night, a go-ahead tally that sent BU into halftime leading by one goal.
"[Van der Laan's] really a talented, skilled player," Starr said. "It was nice to see her score on a penalty corner. That's something we work on everyday, part of our core practice routine. She really got a good shot in a game situation, and we would love to see more of that."
The Amsterdam native received Turnpike Trophy MVP honors on Tuesday following her one-goal, one-assist outing. Her aggressive mantra on the offensive end has contributed to Starr's emphasis on a quicker approach.
Jensen continues to impress
Senior goalkeeper Cammy Jensen responded well after becoming the first netminder all season to shut out BC (9-7) by playing a tremendous second half against an Orange team that generates the seventh-most goals per game in the country.
Despite allowing two shots to escape her reach in the first half, the Escondido, California native stopped all five shots that she faced after halftime, increasing her save total against Syracuse to an impressive nine.
This allowed the Terriers to creep back into contention in the game, as the Terriers nearly tied the score after a goal by senior forward Amanda Cassera in the 67th minute sliced the deficit in half.
She has now held two top-five teams in Duke (14-2) and Syracuse to a combined four goals on 18 saves.
BU is seventh in Division I with a slim goals-against average of 1.21, much of that facilitated by Jensen's confident nature in the net. Her continued contributions will be key as BU gets set for postseason play to begin on Nov. 4.