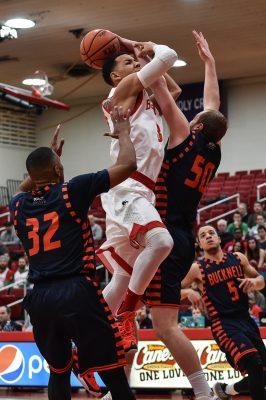 The Boston University men's basketball team was picked to finish second in the Patriot League preseason poll that was released Wednesday afternoon.
Senior guard Eric Fanning, the Terriers' leading scorer last season and 2016 Patriot League All-Conference First Team member, was named to the Patriot League Preseason All-League Team.
BU head coach Joe Jones downplayed the polls, which are voted on by Patriot League coaches and sports information directors. Instead, Jones is choosing to focus on making sure his team is prepared for the start of the regular season on Nov. 11.
"We have bigger things to concern ourselves with," Jones said. "One is just practicing today and making sure we have a great practice today. Right now, those things [polls] aren't important."
In regards to the respect that Fanning has received around the league, Jones says that he is looking for the Trenton, New Jersey native to improve his game on the court and his leadership in the locker room.
"It's well deserved," Jones said of Fanning's All-League honor. "Based on his year last year, I would think that coming back he would be chosen. For us, it's about him taking a step and being an older guy that can show some leadership and become a more consistent defender and rebounder for us. Those are the things that we've been working on."
The Terriers received three first-place votes and finished behind Lehigh University and their reigning back-to-back Patriot League Player of the Year, center Tim Kempton. Bucknell University, last year's regular season champions came in third, and College of the Holy Cross, last year's Patriot League Tournament winner, finished fourth.
Following an injury-plagued 2015-16 campaign, the Terriers will look to capitalize on their experienced roster and possibly bring home their first conference title since they joined the Patriot League in 2013-14.
In addition to Fanning, BU will welcome back senior forward Justin Alston and junior guard Cedric Hankerson, who combined to play in nine games last season due to injuries. Other key returning players include junior guard Cheddi Mosely and sophomore guard Kyle Foreman, who was named to last season's Patriot League All-Rookie Team.
"They are some talented guys that are very experienced," Jones said. "It's going to take us a little time to fit this team together. I do think we could have a great year and could be a team that could get better and better as we go along. But [Alston and Hankerson] should play pivotal roles in helping us get where we're trying to go."
Despite injury derailments last season, the Terriers still managed to finish third in the conference, matching their rank in the 2015 preseason poll. This year, Jones hopes that good health and the addition of talented freshmen will be enough to push BU over the edge.
In particular, Jones will count on three promising newcomers to contribute right away. Six-foot-plus forwards Tyler Scanlon and Max Mahoney present legitimate scoring threats in the frontcourt, while 6-foot-6 guard Destin Barnes averaged 24 points per game and shot 42.3 percent from three in his senior year. All three rookies bring desperately needed height and offensive firepower.
"It's too early to tell how much that guys can play right now," Jones said. "I think all three freshmen can at some point break the rotation for sure. They're competitors. They're guys that want to compete and that's what I really like about them."
Jones expects his team to come out hungry this season, which kicks off with a matchup at Northeastern University.
"We've been working on our defense, making sure we're ready to go each and everyday, that we're being competitive, and that we're bringing energy every day," Jones said.