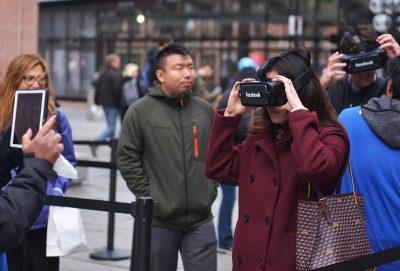 A pop-up stall in the shape of a shipping crate with "Facebook" written on its side was stationed in Quincy Market this week. Inside, people wearing huge goggles walked around with facial expressions that made it seem like they had just discovered a whole new world.
The stall was part of the Facebook Virtual Reality Roadshow, a multi-city national tour that stopped in Boston from Monday to Thursday. People who stopped in the pop-up shop could try out the latest virtual reality technology from Oculus VR, which was acquired by Facebook in 2014.
Participants could wear the Samsung Gear VR, powered by Oculus, a headset and handheld device that allows users to experience videos in 360 degrees. Then, they had the option to step into a station to immerse themselves into a virtual world for two and a half minutes without wearing a headset.
"I thought it was really cool," said Teresa Scalley, a sophomore at the University of New Hampshire's College of Business and Economics, after she took her turn on the VR technology. "It was a little blurry, but that's the beginning of technology. And it's not going to be perfect, but it was definitely very surreal."
Scalley said although she does not know a lot about VR, she is "really excited" to see where it goes in the future.
"The tour serves to bring the Oculus Rift to people all over the place, to common people, and to demonstrate this immersive new technology and the potential it has," a Facebook spokesperson told The Daily Free Press. "[Facebook]'s mission is to make the world more open and connected, and VR by its very nature serves that purpose, be it two people interacting or a person immersing themselves into a whole new world. It certainly opens doors for people and communication."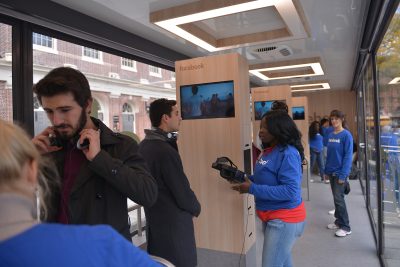 James Cummings, a professor of emerging media studies in the Boston University College of Communication and the co-director of BU's Communication Research Center, wrote in an email that since big companies such as Facebook, Google and Microsoft have now started developing their own VR technology or have bought VR startups, the technology will soon be mainstream.
"VR is set to become a living room media technology, no longer something restricted to academic & military research centers or science fiction," Cummings wrote in an email.
Cummings wrote that the facet of VR that blocks out the external world in order to place the viewer in a virtual world could change soon. He cited Mark Zuckerberg's talk at the Oculus Connect event earlier this year, where the Facebook CEO said the Oculus team is trying to develop a "social VR," which could incorporate customizable avatars and socializing with other players within a virtual space.
"Developers and content providers will need to think about how to provide virtual experiences that allow for social interaction and communication, not just solitary user experiences," Cummings wrote.
Since the goal of VR is to completely immerse the user in a virtual experience — an experience very different from the way humans use other types of media — Cummings wrote that companies could begin thinking about how to incorporate VR into people's tendency toward "media multitasking." This could mean features that allow users to quickly switch between VR and external reality, or notifications from a person's phone popping up during a virtual experience.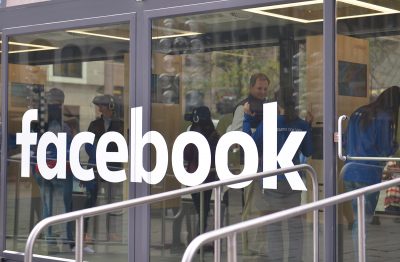 Dustin Supa, a public relations professor in COM, said today's technology might not be able to keep up with the direction VR is going.
"Most of the Oculus devices are designed to be compatible with the smartphones we have today, and VR is majorly a technology intended for a few years in the future," Supa said. "However, by the very nature of technology and the smartphone industry, changes here happen rapidly, new technology and models are introduced every day, and it is very likely that by the time VR technology is easily available to the masses on a large scale, the smartphones it was developed to be compatible with may be obsolete."
Cummings wrote that the next step in the advancement of VR technology, after all the hardware is perfected, is to focus on how VR can be used to serve the widest audience possible.
"With hardware in place, the next big issue will be figuring out what this technology is for," Cummings wrote. "Games? Movies? Virtual tourism and event attendance? Immersive storytelling and journalism? To what extent will VR just port over the content from other platforms vs. present original media experiences that leverage immersion? How can it be applied to various media domains (entertainment, journalism, advertising, etc.)?"
A previous version of this story referred to the Oculus Rift when it should have referred to Samsung Gear VR, powered by Oculus, and stated its original intention was for gaming. This correction is reflected in the story above. We regret the error.