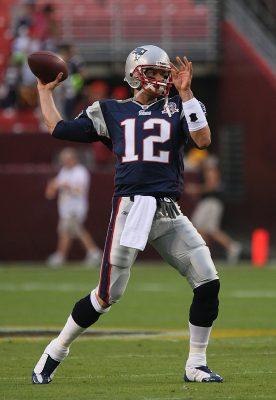 Last week, Boston Globe columnist Dan Shaughnessy penned a column condemning Tom Brady for not condemning Donald Trump's comments about sexual assault. The incident he was referring to came earlier in that week when Brady, at the tail end of his weekly press conference, was asked what he thought about the leaked audio where Trump made his now-infamous statements.
Brady, a player who has been known to steer away from questions not related to football, promptly brought the press conference to a close and walked away from the podium with the question unanswered. And while reporters and columnists like Shaughnessy have used this as fodder to gain reads and clicks, it brings up the question of if players should answer questions about politics.
Now let's get something out of the way first. If a player wants to express their feelings on a specific political situation, such as Colin Kaepernick and his comments about the United States and its National Anthem, that is not a problem. Athletes are entitled to their opinions and have the right to use the platform of their fame to express those opinions — no matter what they may be. However, Brady has never come out and endorsed Donald Trump, nor has he made passionate statements about the candidate, positive or negative.
A few days later, on his weekly radio interview with WEEI Boston, Brady responded to criticisms of his departure with a response that any follower of the New England Patriots should be accustomed to.
"There's a lot of headlines to make, and I've tried not to make a lot of headlines. I've been in an organization where we're taught to say very little," the four-time Super Bowl Champion said. "I don't want to be a distraction for the team. That's what my goal is … It's just hard enough to win and prepare without the distractions so when you start having the distractions it's even harder to prepare."
Trump's comments are deplorable by any standards. What he said was not okay. But to chastise someone for not wanting to be a distraction for his team is a step too far. Brady has the opportunity and the platform to address difficult topics like Trump during his press conference, but by no means is he required to.
It is no secret that Brady and Trump have been friends long before the former "Celebrity Apprentice" host went on to win the Republican presidential nomination — a sentence I never thought I'd have to write. And while Brady has been seen with a "Make America Great Again" hat peeking out from his locker in Foxboro, he reserves the right to remain quiet on the topic just as much as players like LeBron James have a right to condemn it.
The Patriots are an organization that feeds off of the mantra of team over individual. Bill Belichick, Robert Kraft and the rest of the upper management in New England have seldom come out and expressed their opinions on matters unrelated to football — unless you count Aaron Hernandez. With Brady being the prototypical Patriot, as well as a captain who has to lead by example for the rest of his team, did any reporter really expect that Brady would address such a controversial non-football topic?
No reporter who has experience covering the Patriots could honestly say yes. The truth is that, most likely, people are looking to make headlines. In a region where Brady is so beloved — almost as much as Democrats in Massachusetts — the prospect of Brady either condemning the comments of someone who he's had a very public relationship with or explaining them away is a potential goldmine. And while people can say that as a journalist, that reporter has an obligation to ask, "How would you respond if your kids heard Donald Trump's version of locker room talk," the way it's asked is slanted and unnecessarily brings Brady's kids into the matter. It essentially pits Trump against Brady's children unjustly.
Brady was even asked following Sunday's win over Pittsburgh about his feelings on the Josh Brown suspension. Brown, who was cut by the New York Giants this week after admitting to spousal abuse, received a one-game suspension from the league prior to being cut.
And while Brown was subjected to a game suspension, fellow domestic assaulters Ray Rice and Greg Hardy were sentenced to two- and four-game suspensions, respectively — the same amount Brady was suspended for an equipment violation. After badgering Brady with questions about the suspension, the quarterback finally broke down on the third attempt, issuing a terse condemnation of Brown, while stating that league discipline was not in his sphere of influence.
The long and short of it is, Brady is entitled to his opinions — whatever they may be — but he is more importantly entitled to both share and not share them. By choosing to remain silent on the issue, Brady is taking himself out of the spotlight on a topic that is controversial and a divisive one in the nation. For journalists to thrust him back in the spotlight for staying out of it undermines the integrity of the industry and only fosters more anger in this already infuriating election cycle.