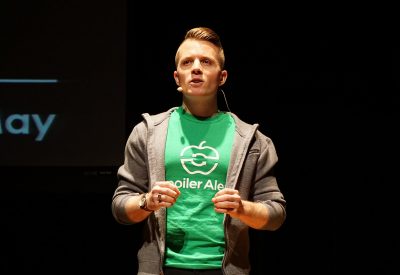 When Ricky Ashenfelter began working toward his Master of Business Administration at the Massachusetts Institute of Technology, he had no intention of starting a business, and was planning to join a late-stage startup or to take on an innovative role in a big company.
However, within his first year in the MIT Sloan School of Management's entrepreneurship program, a company to fight food waste and help businesses was born: Spoiler Alert.
"I think I've caught the entrepreneurial bug and that going back to a traditional role doesn't seem like a good fit for me," said Ashenfelter, the co-founder and CEO of Spoiler Alert.
Spoiler Alert is a platform that connects nonprofits with farms and businesses to recycle food that would've otherwise been thrown out. The share system relies on food organizations posting surplus vegetables or products, and nearby aid organizations picking up the reliable items for second-use, according to the website. It was inspired by a desire to get excess food to people or foundations in need, instead of adding to the global waste epidemic by sending products to a landfill, Ashenfelter said.
We have 15 cases of surplus eggplant available on our platform! To claim, create a free account: https://t.co/ufJmN6l5dC #HowIRescue pic.twitter.com/x8gVZ1s9cf

— Spoiler Alert (@MySpoilerAlert) October 20, 2016
While Ashenfelter was studying Sustainability, Entrepreneurship and Innovation, particularly within the cleantech and food industries, he met Emily Malina. Soon, she would become the co-founder and chief product officer of Spoiler Alert.
"As we progressed from the MIT program, it went from idea, to project, to what we were spending most of our time [on]," Ashenfelter said. "It felt like we were full-time Spoiler Alert and part-time MBAs. But you can only get so much done when you're in school."
Once the pair graduated from the two-year program in June 2015, they brought on their third co-founder, Marty Sirkin, who serves as Spoiler Alert's chief technology officer.
"And we've just grown by sort of leaps and bounds since then," Ashenfelter added.
Currently, Ashenfelter and the team is working with one of the largest wholesale distribution food companies in America. When they started a year and a half ago, though, they began with smaller, more local farms and nonprofits, he said.
They sat down in the beginning to talk with The Greater Boston Food Bank, Lovin' Spoonfuls and Food for Free, large food rescue organizations and resources in Boston. Ashenfelter's ultimate goal, he said, was to find a way to aid these already productive services, and now the Spoiler Alert team is looking to expand the company and create communication and business on a national scale.
"When these instances of extreme volatility or variability in waste generation occur, businesses lack the ability to respond in real time to those circumstances and don't have a strong mechanism for communicating the availability of that food," Ashenfelter said, echoing the sentiments from his presentation at the Forbes 2016 Under 30 Summit in Boston on Oct. 17. "And that's the sweet spot where we operate."
About 1,000 entrepreneurs entered The $1 Million Change the World Entrepreneur Competition, but the pitch for Spoiler Alert was a true success. The company was named a semifinalist and then selected to be one of the top 10 finalists.
Getting to "meet" @jessicaalba of @Honest and @aplusk of Sound Ventures… swoon #Under30Summit @MySpoilerAlert pic.twitter.com/hucKKWQqZW

— Ricky Ashenfelter (@ashenfelter) October 17, 2016
Ashenfelter was able to pitch to potential investors such as Ashton Kutcher and Guy Oseary at Faneuil Hall, where he shared Spoiler Alert's developmental goals. While the platform did not score the deal, Spoiler Alert gained exposure to help take the company and services beyond just New England, he explained.
"It's been neat to see some of our product being distributed out to the local community. Nonprofit to nonprofit," Ashenfelter said.
Recently by using the platform, The Greater Boston Food Bank received about 10,000 "organic, high-end" eggs in a donation on a Friday afternoon, which would mostly likely go bad by Monday, Ashenfelter explained. They put the donations on Spoiler Alert's platform and within a couple of hours, The Salvation Army in Dorchester happily accepted the eggs and distributed them to the community in addition to using them in their teaching kitchen.
Talking future plans, Ashenfelter explained they need to get larger food businesses on board and using the platform, and educate these companies on landfill alternative. Additionally, he said, he hopes the platform is able to get the resources and bandwidth to allow prepared foods from restaurants and catering services to be donated.
"I have been so focused on building Spoiler Alert that I don't seem to find time to think about what the next big thing is … at least not yet," Ashenfelter said, in regard to personal future plans. "But I'm focused on giving Spoiler Alert 100 percent, and then we'll see what's next."