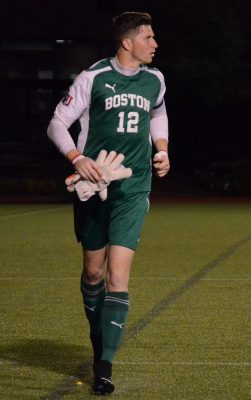 Before senior night began at Nickerson Field for the Boston University men's soccer team, goalkeeper Matt Gilbert, playing the penultimate regular-season game of his collegiate career, had a surprise for every Terrier in the locker room.
"He [Gilbert] got a picture of every one of our guys when they were five years old, and put it up in their lockers," BU head coach Neil Roberts said. "And he said to them, 'Just play like you did when you were five years old.'"
After every game, Gilbert treats his defenders to a post-game meal and hangout session, the details of which are wrapped in mystery, but are essentially a show of thanks to his defense.
Those two small bits of his career, while not shown on a stat sheet, give a bit of insight into the fifth-year senior's presence at BU.
Senior night allowed the Madison, New Jersey native to put together another shutout win in front of his family in what was a crucial match for the Terriers (7-6-2, 3-3-2 Patriot League), who defeated the United States Military Academy 1-0.
It was not the prettiest contest, with numerous stoppages and cards handed out to both sides, but the win keeps the Terriers alive in the Patriot League playoff picture.
Gilbert made a few crucial saves, coming out of the net often and grabbing corner kicks put in by the Black Knights (8-6-2, 4-3-1 Patriot League).
Roberts pointed to Gilbert's 88th-minute play as a "big-time save," as he denied a strong-grounded shot from Army senior Nick Williams to seal his shutout. Gilbert wound up snagging four saves on 13 Black Knight attempts.
It was a usual night of play for the BU goalkeeper, who credits his defensive line for helping him attain his fourth shutout of the year.
"We needed the three points, and my defense played so solid tonight," Gilbert said. "[Sophomore defender David] Riccio, [senior midfielder David] Asbjornsson and [junior midfielder Adam] Sheikali all played really amazing tonight, and to make one save at the end of the game is what I can do to contribute to the success of the defense tonight."
Roberts has seen Gilbert's career at its peaks, leading the Terriers to an NCAA Tournament berth and earning a Patriot League Goalkeeper of the Year Award last season, as well as his valleys, being redshirted in his freshman season and getting benched during his entire sophomore season in favor of returning senior Nick Thompson.
Despite those setbacks, Roberts said it gave Gilbert the opportunity to develop, especially when replacing Thompson as a junior last season.
"Matt's impressive to me because he made himself into such a good goalkeeper," Roberts said. "When he came here out of high school as a skinny tall guy, he just worked and worked and worked."
In that time, Roberts has seen Gilbert grow not only into his starting goalkeeper, but into one of the more respectable leaders in the locker room.
"He's just a quality guy," Roberts said. "You get emotional just talking about it because he is just developed as a person, as a goalkeeper, as a leader. When he first came on campus at the first pre-season, I would never imagine this from him, never. And it's a credit to him, his hard work and his willingness to mature and to be patient developing."
Gilbert's five years at BU has been nothing short of impressive.
The Goalkeeper of the Year Award was the Terriers' first since the award's inception in 2002. He also has 17 shutouts, 23 wins and 224 saves during his BU career.
But above all else, he is a team-first player who wants one last item on his resume before he leaves BU.
"Individual awards come with the team success, and that was my mentality coming into this year," Gilbert said. "Honestly, the only thing I need left on my resume is a Patriot League Championship. That's what I want, and what I want more than anything is this team to hold that cup on Nov. 11."