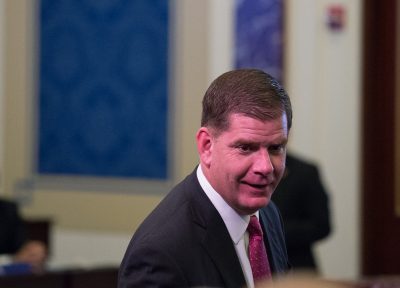 Boston Mayor Martin Walsh outlined his plan to expand Boston's citywide tuition-free community college program to other Massachusetts community colleges, while at a White House Community College meeting, according to a Wednesday press release.
The program, which is in accordance with President Barack Obama's vision for America's College Promise proposal, is intended to financially aid low-income Boston public high school graduates. The plan is already in effect at Bunker Hill and Roxbury community colleges, and Walsh hopes to expand it to Quincy College and MassBay Community College, the release stated.
Walsh said during his speech at the White House that the program addresses the growing "need for education beyond high school," as approximately 77 percent of jobs in Boston will demand postsecondary education and training by 2020, according to the release.
"We found an opportunity to leverage our citywide growth to help fund a tuition-free community college program for our students," Walsh said at the White House. "We've gotten 94 applications and 41 Boston Public School graduates in the program. We anticipate a surge in applications for the Spring 2017 and Fall 2017 semesters."
Cecile Regner, the interim vice president of academic and student affairs of Roxbury Community College, said the mayor's program is complementary to Massachusetts Gov. Charlie Baker's Commonwealth Commitment program.
"It freezes university tuition at the UMass system and all of the state universities in Massachusetts," Regner said. "The tuition is frozen at the rate when they started their community college experience. This really makes college education a real possibility for every student who graduates from Boston Public Schools."
Participants do not have to be full-time students to receive the rewards of the program's benefits, Regner said, adding that the program will give working students a much easier time taking classes while also earning money.
"It's a financial transfer to the students," Regner said. "If there's any gap between what federal financial aid will pay and what the student needs in mandatory fees, books, the mayor's fees take up that difference."
Johanna Dennis, a law professor at Northeastern University, said opening up state aid for Massachusetts public universities to undocumented immigrants can help iron out the issue of post-community college education costs for low-income students.  
"This program will serve those who have green cards or above," Dennis said. "A bigger goal would be funding that program with state aid would serve a greater purpose than funding it with federal aid. This is a great initiative, but we're sort of playing catchup with other states. If we're trying to reach economically disadvantaged students, there's a good chance they're going to miss a lot of people."
Several Boston residents said they support the tuition-free program.
Stacey Toli, 49, of Dorchester, said she is pleased that students are being given the tuition-free option, as she was once in their position and did not have adequate access to education.  
"I was one of those ones who wasn't able to go [to college]. It was really a bummer. I'm glad they're doing this," she said.
Thomas McLaughlin, 19, of Fenway, said it is important to provide a way for students who want an education to get one, regardless of their financial status.
"It's really important [to provide free access to education] for those who want to learn," he said.  "I think education should be more affordable because there's people who want to learn but don't have the opportunity. There's some who don't want to learn who do have the opportunity."
Richard Fox, 74, of Charlestown, said the cost of living in Boston has been rising over the years, making the initiative crucial in aiding underprivileged people attain education.
"I'm all for it," he said.  "Mayor Walsh has done a lot of great things … He's been pumping a lot of money into Boston … The better educated they are, the better off they are."