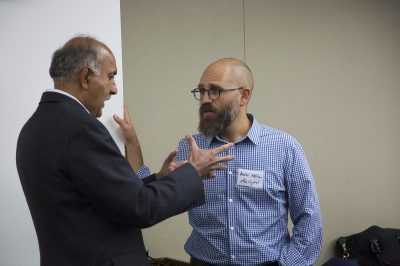 In the world that we live in today, technology plays an integral role to our survival, and data sharing seems to be about as simple as it gets.
However, the medical field remains a difficulty among the simplicity. One of the major reasons why data sharing in the medical field is so difficult is because not all doctors and hospitals adopt the same data sharing methods. Some don't even use much technology, instead preferring to keep written records, according to Daniel Cottam, chief financial officer at the Counseling and Psychotherapy Center, Inc. in Boston.
As a result, some of the biggest problems faced by doctors involve data sharing, and several companies are now trying to come up with digital solutions to fill gaps.
On Wednesday, TiE-Boston, an organization that fosters global entrepreneurship, held an event titled "Digital Health: How do we get to universal adoption?" to talk about data sharing. The conference brought together different medical experts to talk about the adoption of digital health services, highlighting the benefits it provides to the healthcare industry, according to the event page.
The moderator, Ameeta Soni, co-founder of the fitness app FitTrace, introduced the first speaker of the day, Keith Cooper, the CEO of Constant Therapy, Inc.
Cooper spoke about how Constant Therapy provides science-based digital brain therapy on mobile devices. This technology was invented by a Boston University professor, Dr. Swathi Kiran, four years ago.
Essentially, Kiran worked with a team to take all the therapy content that had been developed in brain plasticity research labs, digitized it and established it on mobile devices. She worked to develop mobile versions of proven speech therapy tasks, and co-founded Constant Therapy.
"We collect more data every day and that continues to inform our technology [on] which therapy should be delivered to which person," Cooper said.
Cooper also said the Constant Therapy team had been tracking all the results and that, thanks to this new technology, there was significant improvement
The next speaker to come onstage was Gabriel Singal, a hospital sales lead at PatientPing.
PatientPing is a platform for doctors to receive real-time notifications about regular patients, Singal said. They are able to keep care coordinated by doctors and know details about their patients, such as "whenever and wherever their patients receive care," according to their website.
Additionally, Singal explained that the technology helped connect doctors and enable communication in the medical world.
These talks were followed by a panel consisting of several professionals, ranging from practicing doctors to program directors.
The panel covered an audience-driven conversation on topics such as patient privacy, digital health startups and medical industry finance.
"If you go into healthcare with a solution, you're screwed, but if you go in with a problem to address, you're going to have a much better chance of success," said Nick Dougherty, the program director of PULSE@MassChallenge.
He went on to explain that the key to finding a successful digital solution is first gauging the industry for gaps. Individuals could always pick a problem that need to be solved and slowly develop a solution for it, he said.
Attendees said they found the event insightful and multilayered.
"I was very interested in this event because I'm into digital health and that's really what we're trying to do at my company" said Florence Furaha, 24, an attendee from Newton.
Furaha is the managing director of MeetCaregivers, a company that helps people find caregivers for their aging family members.
"We want to make it really easy and affordable for people to find good caregivers for their family members, and I feel like this could be done best digitally," Furaha said.
Harsha Kalidindi, a product manager at the Massachusetts General Hospital, said he found the event a fresh take on healthcare.
"It's always interesting to attend such events, as one can hear several different perspectives, which is not usually the case with healthcare, as one could usually hear only one side of things," Kalidindi said.
The final topic of the night was the future of health care. Dr. Kanu Patel, a doctor of internal medicine at Winchester Hospital, concluded the discussion on a positive note.
"Digital technology is here to stay," Patel said, "and it's definitely going to improve with time and become more widespread."
A previous version of this story attributed a quotation to Dr. Swathi Kiran instead of to Keith Cooper. This correction is reflected in the story above. We regret the error.