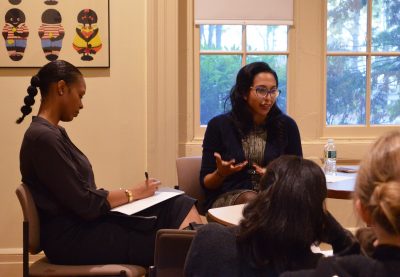 Harvard University John F. Kennedy School of Government professor Leah Rigueur gave a lecture, "Racing to the Top: Black Voters and the 2016 Election," at Boston University's African American Studies Program building Wednesday evening.
This lecture, which was followed by a Q&A session, was part of the semester-long Conversations on Race series. The series, spearheaded by College of Arts and Sciences professors Linda Heywood and Nancy Harrowitz, is intended to "address important questions of racial injustice as well as efforts to identify solutions to racism," Heywood wrote in an email prior to the lecture.
"I believe these are some of the most important questions that we face today, and so we are bringing a range of speakers to campus addressing topics such as the … race and the legacy of Jim Crow in the making of the modern university," Harrowitz wrote.
Approximately 15 students and faculty members from colleges in the Boston area gathered for the lecture. During the lecture, Rigueur delineated the voting patterns of black Americans throughout history since the Civil War, focusing on how blacks have used the two-party system to advance their equality.
Rigueur highlighted three major election years as being the "watershed moments" that altered black voting patterns.  
According to Rigueur, when the Civil War ended in 1865, black Americans had loyally adhered to the Republican Party, the party of Abraham Lincoln, who freed the slaves.
The first election that disrupted this staunch allegiance was Democrat Franklin Roosevelt's re-election in 1936, which solidified his New Deal coalition. Roosevelt was able to implement progressive policies that helped black Americans find work in a post-Great Depression economy, Rigueur said.  
Though civil rights were not a priority for Roosevelt, they were for his wife Eleanor, Rigueur said — the first lady used her platform to advocate for civil rights, allowing Democrats to start gaining momentum in taking votes in the black electorate away from the Republicans.
The second "watershed moment" was in 1948, when Democratic President Harry Truman pushed for some civil rights initiatives, including the 1948 desegregation of armed forces. Around this time, the Democratic Party realized it was in their best interest to include civil rights in their party platform, leeching off the growing skepticism that the black population felt toward the Republican leadership's desire to help them, Rigueur said.
The final and most consequential year was in 1964, when Republicans nominated Barry Goldwater as their presidential nominee to face Lyndon Johnson. Goldwater was one of the few Republican senators to vote against the 1964 Civil Rights Bill, Rigueur added.  
"The party has, realistically, never recovered from that moment," Rigueur said.
Rigueur said that hypothetically, given the absence of President Barack Obama from the ticket this year, Republicans should expect a surge in minority voters. However, Republican nominee Donald Trump stymied this surge, she said.
Another point Rigueur emphasized was the importance of older black women in elections — though they are, in a demographic sense, the least likely to vote Republican, the party still recognizes the necessity of their vote.  
This is why, according to Rigueur, Republicans such as Trump and his running mate Mike Pence, no matter how many insults are thrown around, never blatantly insult first lady Michelle Obama. Trump has also appointed black people to work for his campaign, including his campaign's spokesperson, Katrina Pierson, Rigueur pointed out.
CAS professor Saida Grundy said it's imperative for young people, who make up a growing portion of the electorate, to have a solid grasp on this history and use this knowledge to think critically and engage in politics.
"It's very important for us to get you all involved in that process, and to get you to see trends in history and be able to anticipate some of these things and recognize strategies," Grundy said after the lecture. "You will be these trends."
Several students said they appreciated the knowledge they gained from the event — Daniel Burge, a sixth-year Ph.D student in CAS, said understanding the history of demographic shifts within the electorate is important to understand the nature of parties today.
"It's important to understand the role and influence of race in the American political system," he said. "To understand the rise of Trump, one cannot do it without some historical appreciation of the modern Republican party's troubled and conflicted relationship with African-Americans."
Kelsey Harris, a second-year Ph.D student in CAS, said she appreciated how Rigueur's lecture could help her in her own studies of students of color in elite higher education. She attended the event because Rigueur's area of focus is "tangentially related" to her own.
"I tend to find that if I go to talks that aren't directly related to what I do, then something piques my interest, and I'll pick up on it," Harris said.