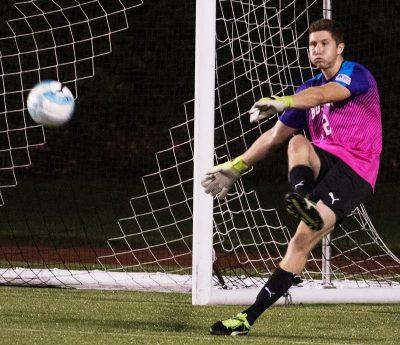 The Boston University men's soccer team is now in control of its own postseason destiny following Saturday night's 1-0 victory over the United States Military Academy.
If BU (7-6-2, 3-3-2 Patriot League) wins at home against the United States Naval Academy on Friday, the team will go to the Patriot League Tournament for the third consecutive season. The Terriers find themselves in a favorable position, as Navy (5-8-4, 1-5-2 Patriot League) currently occupies last place in the Patriot League standings.
If the rest of the season is any indication, the Terriers should be ready for anything on Friday night.
Coming into the season, many were banking on the Terriers' offense to carry them to the playoffs. However, injuries have completely flipped the script this year, and it is now the BU defense that has led a resurgent charge down the stretch into the top six of the Patriot League standings.
The Terriers have shut out their opponents in four of their past five contests, and BU head coach Neil Roberts said the blank sheets are thanks to a tremendous team effort.
"Collectively, we've defended better; that's the bottom line," Roberts said. "We're taking the pressure off of [senior goalkeeper] Matt [Gilbert]. Matt used to have to make five or six big saves a game. He's down to one or two now, which is more normal for a goalkeeper. It's just a mentality. We were possessing and dominating games but we were getting lazy and leaving people free. We'd lose the ball and they'd have easy counterattacks against us, and I think we solved that."
Gilbert can finally relax (sort of)
As good as the BU defense has been, the team would be eliminated from playoff contention by now if it weren't for the incredible play of Gilbert in goal. The reigning Patriot League Goalkeeper of the Year has been outstanding in the most important games of the season for BU, and has surely staked his claim to win the award for a second straight season.
"Matt's been playing extremely well," Roberts said. "It's just that we're finally starting to play better in front of him."
The Madison, New Jersey native leads the Patriot League in saves with 71, is third in the conference with a .798 save percentage and was named Patriot League Goalkeeper of the Week on Monday for the third time this year.
Roberts said he believes the defensive improvements have helped Gilbert play even better recently.  
"It makes it easier for him to be able to lead from that position when he's not under as much pressure and people aren't coming through at will any longer," Roberts said. "Things are under control from the defensive end of it. What we were asking him to do in the beginning of the season was really ridiculous; you just can't make that many saves. He's playing fantastic, but to ask him to make five or six spectacular saves in a game is unrealistic. Now, we're cutting that down."
Roberts reflects on 350th win and looks ahead
The Terriers 1-0 win on Saturday night was the 350th career victory for Neil Roberts as coach of the BU men's soccer team. Roberts is in his 32nd year at the helm and has guided his teams to 28 winning regular season records and 14 NCAA tournament bids, numbers he hopes to add to this season. As usual, Roberts was humbled when he received the news about the big win.
"It means that you're old," Roberts joked. "You always look at that number and you say, 'Damn, it probably should be closer to 400 if we took care of business over the years.' We've had good teams, good players, good coaches. But you just worry about the next game. What's important now is that we beat Navy and keep our season going."
Roberts said he is especially focused now, as he feels his team is hitting its stride at just the right time.
"As a group, we're the most solid I think we've been over the last five games," Roberts said. "Even the Lehigh [University] game that we didn't win, we were unfortunate not to score goals. I think the last piece of the puzzle is finishing off a better percent of our chances that we create. If we can up that percentage and still play defensively like we're doing, we should have a good month ahead of us."