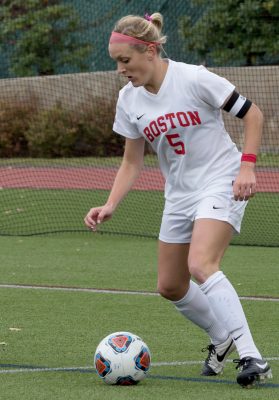 After losing its first 10 contests to start the season, the Boston University women's soccer team is now focused on winning its fourth straight Patriot League Championship.
The No. 2 seed Terriers (8-10-1, 8-1 Patriot League) start their championship drive on Friday in the conference semifinals when they face fifth-seeded United States Naval Academy at Bucknell University in Lewisburg, Pennsylvania.
BU earned a first round bye as a result of finishing as co-league champions. The Midshipmen (9-10-2, 4-4-1 Patriot League) meet the Terriers after downing Colgate University 2-0 in the conference quarterfinals.
The two teams met in the final regular season contest on Oct. 29, which the Terriers won 2-0.
In that win, BU head coach Nancy Feldman liked her team's physicality, which she wants to carry over into the playoff contest.
"We did a good job in the physical department of the game," Feldman said. "We won our fair share of aerial and 50-50 balls against a good team. Navy is physical. They are strong and disciplined in that area, so we have to win the physical battle again."
Defense will be another key for the Terriers in the semifinal.
The Midshipmen attack from a variety of positions, as they finished second in the Patriot League in goals (34) and shots (309).
They are also coming off of a 17-shot performance against the Raiders (8-8-3, 5-4 Patriot League), five of which were on goal.
Three players lead Navy's attack: senior Rachel Feldman, junior Clare MacAdam and freshman Cadie Higginson. The trio combined for 19 goals in the regular season, with each of them finishing top-10 in the conference in that category.
Against the Terriers, however, the Midshipmen were outshot 22-6 overall and 9-2 on goal. Feldman wants her team to repeat that stalwart defensive performance on Friday.
"We defended in [Navy's] half well last game," Feldman said. "We didn't allow them to break out of their own zone, which is incredibly important. On Friday, we have to limit their open looks as well — their free kicks and corners. We have to continue pressuring them all over the field because if they break free, they are dangerous."
Friday's meeting will mark the third time in four years that the two teams have faced off in the Patriot League Tournament.
The Terriers trumped the Midshipmen 1-0 in the 2013 final and 2-0 in the conference semifinals the following year.
Feldman said the key to approaching a playoff game is to prepare as though it were any other contest.
"We try to prepare the same for every game, whether it's our first or fifth game, coming off a loss or a win or if we have just played the same team," Feldman added. "We don't expect to pull a rabbit out of a hat just because it's the playoffs. "
One of the keys for BU throughout its undefeated streak has been its steady improvement. The team has scored 18 goals since the start of Patriot League play after only mustering two goals up to that point.
"We gain experience, and improve from game to game," Feldman said. "As I've said before, I'm a boring coach — I like consistency. We stay true to what we do and what works best for us."
Despite her team's sound defeat of Navy last week, Feldman knows Friday's game won't be a runaway contest. She expects the Midshipmen to be more aggressive.
However, the Terriers will increase their effort, as they are looking to extend their championship streak. They have made the NCAA tournament all but once since 2007, when they were ineligible to play in the 2012 postseason due to their move to the Patriot League.
"Everyone will be at their best," Feldman said. "Everyone will be giving 100 percent because this could be the last game, and there are only 90 minutes plus a potential overtime in the game. It'll be exciting — the winner plays for the championship, and the loser goes home."