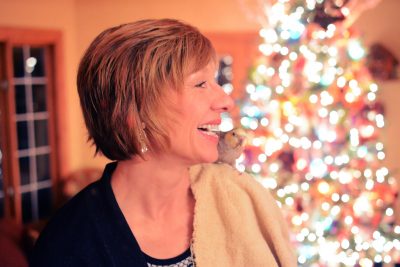 Diane Kelly had just finished a few months' worth of training as a dog groomer in North Carolina when she came across an interesting idea: cat cafés. She knew established cafés were popular in certain areas, and she also knew there were some of them on the East Coast, but were they financially viable? A few visits to cafés, extensive research and two years later, Kelly is well on her way to establishing Boston's first official cat café: Purr.
Throughout the whole process, she has had by her side her 11-month-old foster kitten and 5-year-old cat.
"When I first approached the City of Boston … they outright told me, 'We have no clue how to run a cat café,' and I replied, 'Same here, I'll have to figure it out as I go,'" Kelly said.
In the city's past, two different cat cafés, Miaou Boston and Le Chat Noir, tried and failed at their attempt to create a successful cat-friendly space. Their difficulties, Kelly explained, are shared by many potential cat café owners.
"There was one couple I heard of who have been looking for a space for two years," Kelly mentioned as she talked about her own difficulties finding a location. "Another couple has spent over two and a half years just searching and searching without finding anything. I spent seven months working every day with my broker."
Along with a cat café comes a range of public health concerns, and the possibility of local business opposition. Fortunately for cat-lovers, Kelly and her General Manager, Sarah Dellea, are making an active effort to reach out to organizations around Boston to convince them the café is a valuable addition to the city.
As part of their community outreach efforts, they have been holding weekly information sessions to raise awareness with different local business owners. Kelly happily noted that "most of the businesses seem very open and accepting to the proposal." She said she believes with the aid of her zoning attorney and her general manager, they will be able to officially enter a permission hearing for her business in early December.
Of course, community outreach isn't Kelly's only responsibility at this stage. The organization recently partnered with a local restaurant in order to provide food and drink for their customers, resolving the health concern of preparing food and owning animals in the same building. Additionally, she explained that Purr will be receiving cats from Boston's Forgotten Felines, a volunteer group that focuses on resettling feral and stray cats in the Boston area.
If everything goes as planned, Kelly said, Purr will do some test-runs before their official opening to make sure the cats are all capable of living around each other and handling the open space of a cat café. In the case of cat injuries or illnesses, Kelly and her team have also contacted a veterinarian willing to check up on and treat any ailments their cats suffer. They've also submitted their floor plans for approval and are almost finished with their interior decorating plan.
"I think my biggest resource has been the North American Cat Café Embassy," Kelly said. "Almost everybody there has been so helpful, and they've given me so much information and insight that I wouldn't otherwise have."
Established by a cat enthusiast from Toronto, the North American Cat Café Embassy helps individuals in their quest to bring cat cafés to America. Kelly said this type of alliance helps during the long and arduous task of creating an eccentric café. Their website has helped her connect with other professionals to discuss considerations, ranging from what food the cats should eat to how they'll filter the inevitable litter box smell. The embassy has served as a network for small business owners share their experiences and make the process a little bit easier for the next person to rise to the challenge, according to their website.
"So many different café owners have responded to my calls and emails and we've talked for hours at a time about this whole process," Kelly said. "Some cat café owners don't want to give you the time of day, and I totally understand that because I'm their competition."
She said other café owners have been open and talkative about the "very real" business side of running a cat café.
If everything continues going smoothly, Kelly is confident that she will be able to make her estimated early 2017 opening date, and she encouraged people to spread the word when they can.
"Cat cafés are unique in that they have a really open, talkative environment where you can walk on in and make new friends because you have something in common: you like cats," Kelly said. "They can have such a big impact for the cats and the people, and that's really special."