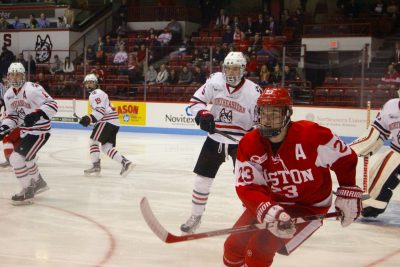 Hockey's a simple game when you break it down, with five skaters and a goalie from each team duking it out. But on Friday night at Matthews Arena, there practically was another player on the ice that willed Northeastern University when the going got tough.
The Huskies' (3-2-3, 0-1-1 Hockey East) student section, effectively known as The Dog House, created a deafening environment that tested the No. 4 Boston University men's hockey team time and time again. By evening's end, Northeastern snatched a victory from the Terriers' (3-2-1, 0-0-1 Hockey East) grasp, leaving a bittersweet feeling for the scarlet and white.
"We were only a minute away, so that's the real reason this stings," said freshman forward Patrick Curry, who scored his first collegiate goal in the effort. "We felt like we were the better team the entire night, and they got one last minute. It's going to sting, but we have to forget about it quick and get ready for the next game."
The 4-4 overtime draw featured four different lead changes, but the overarching theme was a hectic environment that persisted from puck drop to the final buzzer. Senior captain Doyle Somerby, who has taken in his fare share of cross-city clashes, cautioned BU before the game, but sucker punches still arose.
Namely, junior Dylan Sikura tied the game up at 3-3 7:45 into the third period, only for senior Zach Aston-Reese to tie the contest with 55 ticks left in regulation. In other words, when it appeared as BU was inching towards its first conference win of the season, the Huskies pushed them back into a corner.
"You have to give a lot of credit to the fans here, they were so loud," Somerby said. "In the first period I was pretty happy we were able to come out of it 2-1 with how loud it got, and one little thing happened and the place went crazy. That can be tough for our freshmen not playing here before, but I felt we responded pretty well."
For head coach David Quinn, however, the biggest problem rested beyond a raucous student section or momentum swing. Instead, he reiterated following the game that his squad showed immaturity in the costliest of moments.
There was a 10-minute misconduct for sophomore forward Jordan Greenway, a power play that only went 1-for-7 and two Northeastern goals came against the run of play.
"We've got to be smarter, we've got to be smarter," Quinn said.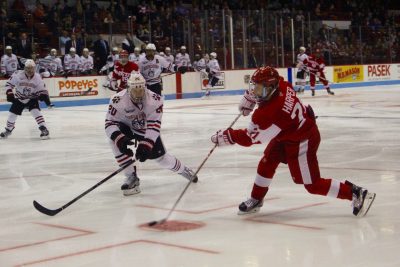 For a squad that's the second youngest in college hockey, seeing structural downfalls unfold at the hand of Northeastern head coach Jim Madigan's side was no surprise.
"I thought there were a couple mistakes that we really don't make that they capitalized on, and we'll definitely watch film and figure those out," Somerby said. "But we've been really good on our penalty kill all year long, and unfortunately we gave up two off-the-rush power-play goals. Just a lot of mental lapses, and the crowd was chaotic. That can cause some mistakes and a lack of communication."
All things considered, Friday night's tie made one truth apparent: These Terriers are far from a finished product. As Somerby noted in the game's aftermath, the building blocks are still falling into place for BU.
There were strokes of brilliance – such as freshman forward Clayton Keller scoring on the penalty kill and power play – but there simultaneously were times when immaturity rang true. Therefore, the charge before Quinn's side is how it responds to a dose of adversity, and the chance to do that will come quickly.
BU hosts Northeastern Saturday night at Agganis Arena, and one thing's for sure: The Terriers are anxiously awaiting the return of friendly confines. With that in place, perhaps the deciding plays will fall their way.
"These guys are so used to whenever things are going poorly that they just run and go get the puck, but that can't happen at our level and that's what all these guys have to learn," Quinn said. "Unfortunately, it's going to take time."