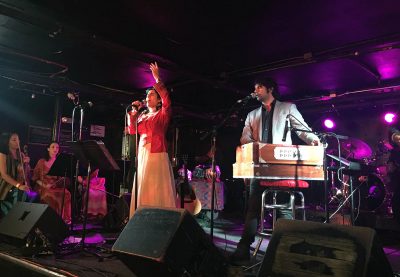 She's known for her blend of traditional Indian vocals and modern pop style, but Falu uses her talent for more than spreading music and culture.
Although not for the first time, Falu worked with The Desai Foundation to host a concert in Cambridge at The Middle East Restaurant and Nightclub on Thursday. In an underground venue filled with colored string lights, loud conversations and themes of social justice, the two groups ensured that attendees understood the deeper meaning of the festivities and the mission of the foundation.
"I like the fact that they are extremely passionate about supporting women and children in India by giving them education and hooking them up with a job afterwards," Falu said. "That's what really keeps the family going."
Because Falu was born and raised in Mumbai, India, her personal ties to the cause motivate her further. In the same way Falu has combined her love of classical Indian music and modern Western styles, the Desai Foundation strives to cross cultural barriers and now maintains sustainable programs in New York, various towns across Massachusetts and Gujarat, India. Connecting over similar passions, they have partnered for various events for the past 15 years, working to spread the organization's message together.
"Something we really focus on is how do you enhance someone's ability to dream beyond their circumstances," said Megha Desai, director of the Desai Foundation.
Whether that revolves around elevating their health, their livelihood or their education, members have designed several different vocational training programs to support the idea of dreaming beyond. This includes sanitary napkin making classes, sewing classes, computer literacy classes and anything else to help reinforce learning.
With these methods, they've touched countless lives.
Established in 1997, the Desai Foundation started out small – a family foundation with big dreams. But with the goal "to improve social and economic life in the villages of India, and to develop and implement educational programs to promote Indian culture and heritage in the United States," according to the website, the Desai Foundation has grown into a family that now includes over 300,000 women and children in India and the United States. 
With the support of many partners, the organization has been able to make substantial differences in middle schools, high schools and adult lives, Desai said. In many rural communities in India, many women don't have affordable access to menstrual hygiene products. They don't have reliable screenings and treatments for their health. They don't have great economic opportunity. But the Desai Foundation works as a unit to focus on these needs of women and children.
"Our strategic partnerships are 100 percent what lift us up," she said. "It is exactly a team effort."
In Massachusetts, the Desai Foundation has worked with the Peabody Essex Museum in Salem, the Berklee College of Music, the Middlesex Community College Foundation in Lowell and more. But whether it's schools, hospitals or other nonprofit organizations, the important thing, Desai said, is that they're teaching skills and imparting knowledge. It's more than just giving away something for free.
"We know that the model of community development is more successful than charity," she said. "So what we do is we try to find the leaders within the community and allow them to lead those programs, so that it really is all about the community members lifting themselves up."
Ellen Burnett, 60, of Beverly, also said she felt organizations such as the Desai Foundation are important in creating a strong sense of unity among communities.
"Places like this can really give you that link and give you access," Burnett said. "And it's not even always dramatic options, sometimes it's just someone to listen to."
But because so many groups work as part of the team, coordination can prove to be tricky at times, including roadblocks with fundraising and publicity. One difficulty in particular is one that they're still trying to navigate: as the foundation members watch their programs flourish and create positive change, the next step is trying to figure out how to expand in the right way.
But despite challenges, Desai called it "the most humbling and rewarding experience" she has ever had.
"I'm in awe of how much the women are able to do with so little," Desai said. "I think in America we take for granted the accessibility of things, and that doesn't exist in these rural parts of India and it doesn't exist in some of the inner-city parts of New York City."
While the Desai Foundation is always looking for talented people interested in healthcare, vocational training, education and global development to help their cause, Desai said, the night's purpose was more celebratory.
"We just thought it would be great to bring everyone home," she said. "We're about to hit our 20th year with the foundation, and we just thought this would be a great way to celebrate Diwali and our Festival of Lights and to have some fun and bring some people together."