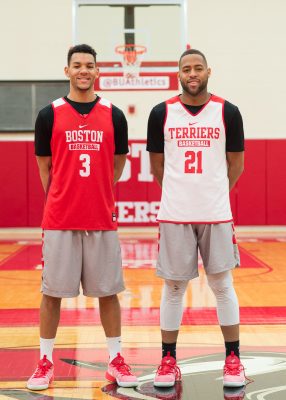 For the Boston University men's basketball team, which is returning 13 players this season, there is a lot of cohesion.
A year after falling in the quarterfinals of the Patriot League Tournament, the Terriers are back with many familiar faces. This team boasts five seniors with significant playing experience along with others who played crucial roles last season.
Decimated by injuries throughout the 2015-16 campaign, unlikely faces were tasked with increased roles — and they answered the bell.
While two stalwarts graduated last year in guard John Papale and forward Nathan Dieudonne, the offense has more than enough firepower to move on.
"It's tough losing Jon and Nate because those are two guys who gave up for other people," senior guard Eric Fanning said. "We know that everyone can shoot the ball and we're just preaching that everyone has to be more selfless this year because everyone can score so everyone's going to want the ball. For the most part, people have been buying in and it's going to take the season for people to buy in a little bit more."
Fanning is known as a scorer himself, as his prolific offensive abilities led him to the 2016 Patriot League All-Conference First Team. The Trenton, New Jersey native averaged a team-high 15.2 points per game to go with 5.4 rebounds per game last year.
BU returns four full-time players who averaged six points or more last season, and that doesn't include junior guard Cedric Hankerson who missed all but one game last season with a knee injury.
In 2014-15, he was named to the Patriot League All-Conference Second Team while scoring 15.9 points per game.
"We just have a lot of maturity this year and a lot of different weapons that we can hit teams with, a lot of different angles," Hankerson said. "Defensively teams aren't going to know how to come at us so it'll be an advantage for us."
With so many different ways to score, it remains to be seen how the team will manage touches this year.
For a team that averaged just over 55 shots per game last season, Hankerson, Fanning, junior guard Cheddi Mosely and sophomore guard Kyle Foreman absorbed about 42 percent of the team's attempts.
"Everyone knows where I want the ball — everyone knows where Cedric and Cheddi want the ball, Kyle too," Fanning said. "There are games that Ced played the year before last where he was knocking everything down and those games I got to bundle up and be happy for him."
There is undeniably a well of offensive talent for BU coach Joe Jones to draw from, but making the most of that talent will be the key to success.
"We have some guys, like Fanning and Cedric and Kyle and Cheddi and Justin, who hopefully night in and night out can be consistent," Jones said. "But then you have a lot of other guys who can hurt you in other ways, and those guys are going to be very important to our team."  
To go along with the returning players, there are also four freshmen entering the mix. It should be tough for any of them to enter the fray with significant playing time due to the logjam at every position.
Last year, Foreman took over the starting point guard job after an impressive season-opening performance against Northeastern University, where he dropped 15 points and dished out seven assists.
Jones said he does not expect a freshman to have that sort of impact this year, though, with each one just trying to fit in.
"I don't think there is a freshman on our team that's going to play 30 minutes a game," Jones said. "I don't think we're going to have anybody that does that except maybe Kyle and [junior guard] Eric Johnson."
There will certainly be nights where there are not enough touches to go around, and the Terriers may suffer because of it. There will also be nights where the pieces fall into place and the chemistry of the team shines through.
Whatever the case, Hankerson is not stressed about getting his shots or getting egos involved.
"On different nights people are going to be hot so we're just going to be feeding the hot hand on whichever night," Hankerson said. "We're not worried about a certain person getting a certain number of shots."
He and the rest of the Terriers are just excited to be back.